Today on our blog, Calgary Bride is featuring a wedding from beautiful Banff and the heart warming story of Felicia and Daniel. Love the design and flowers from Sarah Mayerson Designs!
About the couple:
Daniel and Felicia first met at St. Francis high school in Calgary. Felicia was in Grade 11 and Danny's family had transferred from Edmonton to Calgary for his Grade 12 year. They noticed each other during high school, flirted a lot and even shared their first kiss at a high school party in a boiler room! Many MSN and ICQ messages and emails followed, but they did not start dating until a few years later, when they were both attending the University of Calgary. They count their first official date as May 4, 2006 and they ended up getting married exactly 7 years later on May 4, 2013!
Favourite memories of the day:
1."Getting ready with the girls and drinking champagne mimosas.
2. Trying not to cry at the church, but bursting out into a sob when I heard the beautiful harp music and saw all our family and friends.
3. High-fives down the aisle to the Wedding March.
4. The ringing of the bells when we exited the church.
5. Champagne toasts in the limo.
6. Pictures in the mountains on a beautiful day.
7. Sneaking into the reception room to see it before anyone else and having our breath taken away.
8. Heartfelt speeches that I'll never forget.
9. Delicious soup, steak and tiramisu.
10. An amazing slideshow by my sister.
11. My niece tearing up the dance floor as everyone gathered in a circle around her while she danced to "Gangnam Style".
12. Everyone shouting "one more song!" when it was time to end."
Sounds like a good time was had by all! Love this special Calgary Bride and her new husband. Congratulations Felicia and best wishes always. Thank you so much for sharing your beautiful story and images.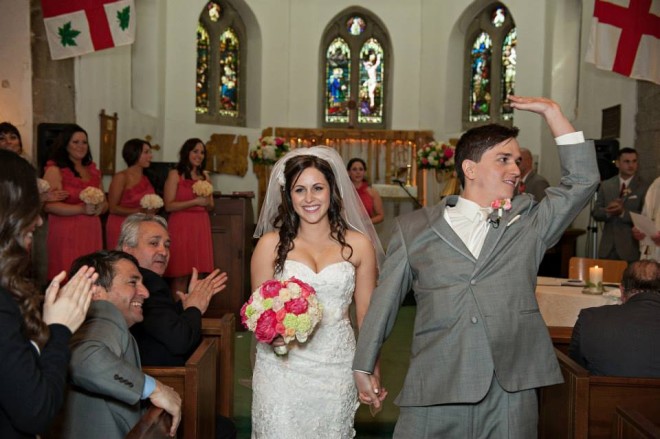 Behind the Scenes:
Name of Bride and Groom: Felicia Pacentrilli & Daniel Zuniga
Photographer: Orangegirl, (a.k.a. Kirstie Tweed)
Wedding Planner/Designer – Felicia!
Bridal Fashion: Ladies: Lela Rose dresses, Guys: Moore's
Hair: Cousin Genna Serpico, Makeup: Vered Amir
Venue: The Rimrock hotel in Banff, Ceremony at St. George-in-the-Pines church
Catering: The Rimrock hotel
Cakes: The Rimrock hotel
Favours: Bottles of wine from in-laws' wine stores
Decor: Sarah Mayerson
Flowers: Sarah Mayerson
Stationery: Plush Invitations
Entertainment: Revolution DJ
Transportation: Highland Executive Chauffeur