We are thrilled to have our friends from Heritage Park on the blog for a guest post about the fabulous Selkirk Grille!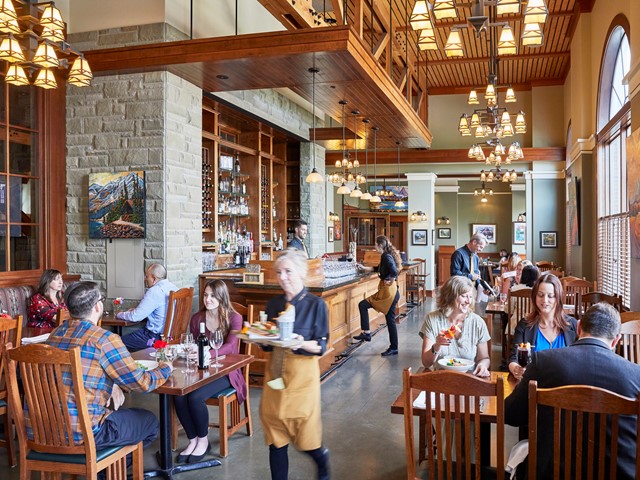 When people think about Heritage Park, they are often reminded of their childhoods and the familiar comfort of simpler fare and meals served at their families' dinner tables. As the Park has changed, grown, and evolved over the years, many Calgarians may not be as familiar with the heightened level of cuisine, we are now able to offer.
For the last ten years, the Park has operated a fine dining restaurant, The Selkirk Grille, a welcome addition to our extensive catering and dining options. The Selkirk Grille is overseen by Chef de Cuisine Tobias Larcher, who literally brings a world of culinary experience to his menus. The Selkirk's field to fork philosophy has our Chef Tobi working closely with our Gardening department to cultivate fruits and vegetables grown in Heritage Park's own gardens.
In addition to the beautiful flower gardens the Park is known for, there are five gardens used specifically for culinary purposes. These gardens are planted with heirloom seeds which are not only period-appropriate varietals fitting the timeline which Heritage Park represents, but also offer superior taste and quality. Heritage Park's 5,000 sq.ft. Commissary kitchen is also equipped with an urban cultivator used to grow delicious and healthy microgreens for salads, spices, and garnishes. The Selkirk Grille highlights all of these Park has grown treasures in their menus in addition to sourcing meats and dairy from local southern Alberta vendors to complement the items they harvest.
While the cinnamon and cheese buns that the Alberta Bakery in the Historical Village produces are synonymous with Heritage Park, they are only available on a seasonal basis, when the Historical Village is open. Fortunately, the Selkirk Grille and our Catering Department are open year-round, so you can stop by our front entry plaza businesses anytime to perhaps indulge in one of the decadent desserts created by our in-house Pastry Chef.
As your palate preferences evolve, remember to return to your roots and experience the offerings of a historic Calgary landmark differently. You'll be pleasantly surprised how it can complement your adult taste, helping to create a new set of experiences while truly supporting and celebrating the beauty of locally sourced foods. The Selkirk Grille,
in addition to a whole host of catering options are at your service.