We've always loved couples who choose to elope. While big weddings are fabulous, there is something almost a little bit magic about two people, madly in love, how take off (we always imagine them holding hands the entire time!) and make a commitment solely to each other. It feels so pure, so raw, so real, so honest!
Inspired by a love for adventure, Calgary wedding photographer Haywood and Honey Photography captured this cozy and wild elopement at Canmore wedding venue Creekside Villa. Both lavish and simple, intimate and rich, this team of Calgary wedding professionals pulled out all the stops to create a wedding inspiration shoot that felt as those these two eloped on a whim, just feeling the vibrating energy between them and embracing the excitement of a future together. We love how this team decided to start off the elopement shoot with a boudoir feel  – it gives the entire shoot an added element of passion and thrill.
With a dark colour palette to work with, we are all about the fabulous table design from Calgary wedding rental and styling Orange Trunk Vintage Rentals (that matte black plate will be everything in 2018/2019!). The fabulous macrame from The Knot Garden acts as the perfect backdrop for this wedding ceremony.  Styling the bride in a beautiful, flowing black gown gives the sense that this couple is bucking tradition is so many more ways than one! This is a gorgeous styled shoot that we are loving – hear more from the photographer and meet the entire Creative Team after the jump!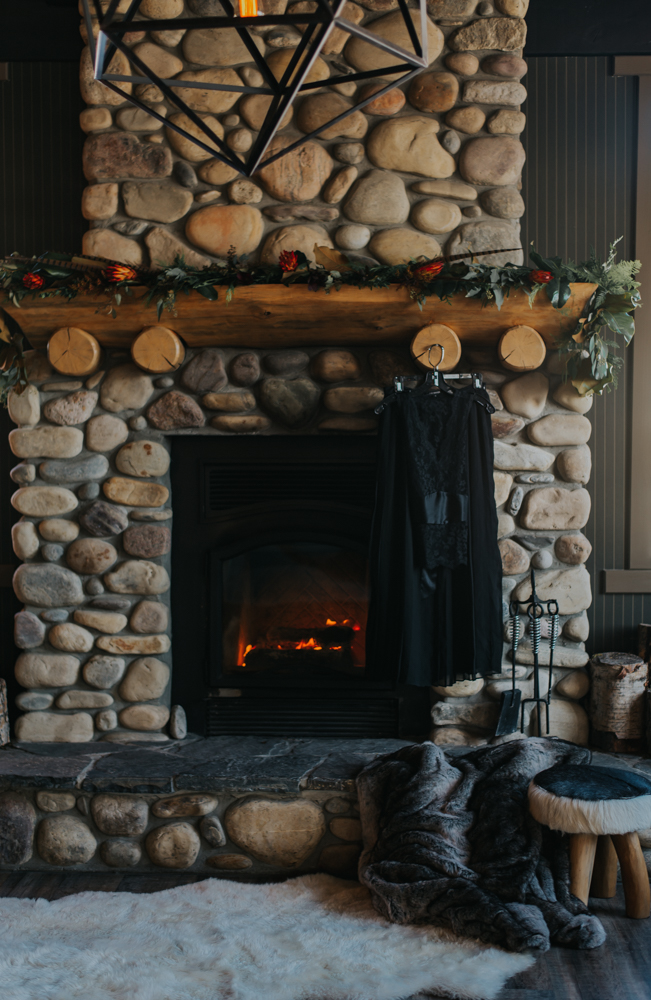 From the photographer:
This styled session was inspired by spontaneous adventure and the feeling of crazy wild love. I wanted the session to feel as though they just decided to elope on a whim, grabbed their favourite items and ran away to the mountains together. We really embraced a dark and moody vibe highlighted with rich orange and blue tones and romantic bohemian details. I love the idea of couples getting ready together on their day, I feel it adds a wonderful sense of intimacy and connection which is why we had them cuddle up in front of the fire to share some local craft beers to really add to that casual atmosphere.
 Every vendor involved really took my vision and delivered their own beautiful spin on it and I think it came together to make something so eclectically gorgeous!
Sources
Haywood + Honey Photography/Orange Trunk Rentals/Makeup by Katina/Creekside Villa/Salvedge Boutique on 17th/Pine for Cedar/Inner Wolf Jewelry/The Knot Garden