With its crisp air, vibrant foliage, and cozy atmosphere, fall is undeniably the perfect season for weddings. Its enchanting charm has made it an increasingly popular choice for couples tying the knot, and it's easy to understand why. In this blog, we will delve into the reasons why fall is the perfect season for weddings, celebrating the stunning natural backdrop and the cozy decor, that make it an exquisite choice for couples in love.
Courtesy of An Enchantingly Whimsical Woodland Styled Shoot
The Natural Beauty
One of the most compelling reasons for choosing fall as your wedding season is the natural beauty that it offers. The landscape transforms into a tapestry of rich, warm colours, creating a breathtaking backdrop for your special day. The deep reds, burnt oranges, and golden yellows of fall foliage provide a picturesque setting that's hard to match. Whether you opt for an outdoor ceremony or an indoor celebration with large windows, the fall scenery will undoubtedly take your breath away.
Courtesy of Waterfall Elopement Styled Shoot
Perfect Weather
Fall in Canada often brings pleasant weather with mild temperatures. The crisp, cool air and the soft golden sunlight create a serene atmosphere for your special day. While there might be the occasional drizzle or light snowfall in certain regions, this can add a touch of magic to your wedding photos.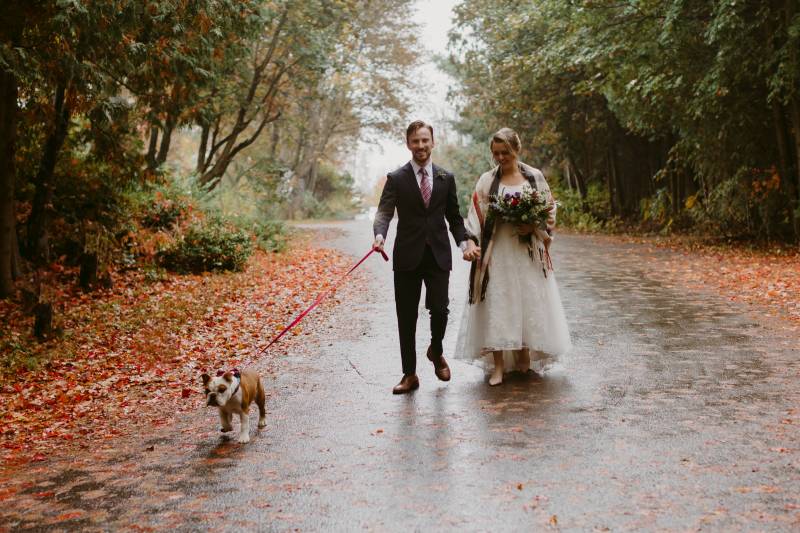 Courtesy of Sweet Rainy Day Wedding in Millcroft Ontario
Seasonal Decor and Themes
Embrace the essence of fall with your wedding decor. Think rustic barns, wooden accents, and warm, earthy colours. Incorporate maple leaves, pinecones, and pumpkins into your centrepieces and aisle decorations. Your fall wedding in Canada can evoke a sense of rustic elegance that perfectly complements the season. Not to mention the floral options! Fall opens the door to a wide array of unique and beautiful blooms. Rich, deep-hued flowers like dahlias, mums, and sunflowers are in their prime during the fall.
Courtesy of Alberta Fall Dream
Courtesy of Autumnal Bohemian Wedding at Rivers Edge
Courtesy of Warm and Cozy Fall Boho Wedding Shoot
The Photos
The fall season in Canada provides opportunities for breathtaking wedding photography. The vibrant foliage, the reflection of the changing leaves in calm lakes, and the tranquil settings of Canadian wilderness make for stunning and memorable photographs. Your wedding album will be a testament to the natural beauty of Canada in the fall.
Courtesy of Embracing Love in Autumn
Courtesy of Beauty and Grace at this Fall Fashion Shoot
Fewer Scheduling Conflicts
With the summer vacation season coming to a close and the holiday season not quite in full swing, fall typically experiences fewer scheduling conflicts for your guests. This means that more of your friends and family will likely be available to attend your wedding, ensuring a more significant turnout.
Fall weddings are a wonderful choice for couples looking to capture the natural beauty, mild weather, and cozy atmosphere of this enchanting season. From the stunning backdrop provided by the changing leaves to the unique decor and seasonal cuisine, there are countless reasons to embrace autumn as the season for your special day. So, if you're planning your wedding, consider the magic of fall, and you won't be disappointed with the unforgettable memories you'll create.