Cuddled up, holding each other close with the view of the mountains right there, how can you not want to get cozy when you're looking at Jacob and Erin's Rocky Mountain engagement session from Love Actually Foto? These two took epic love and epic style to the mountains for their e-session and got close and personal with each other. Hear more from the photographer and from the couple after the jump!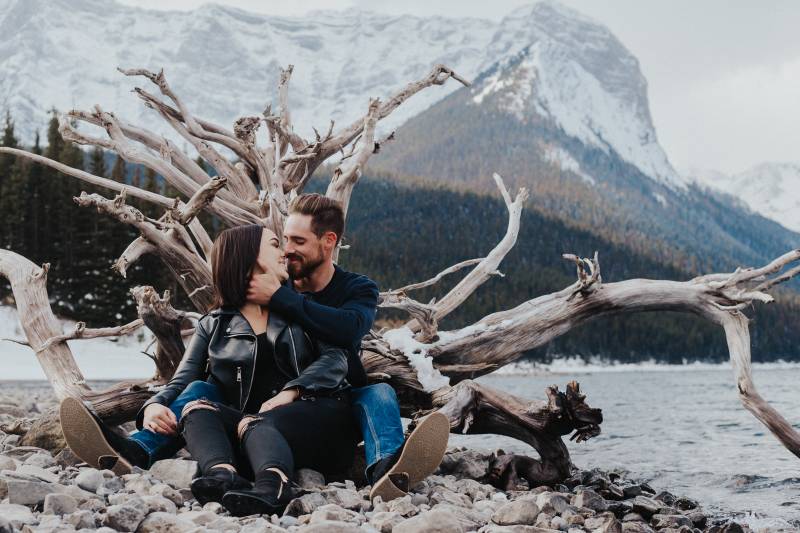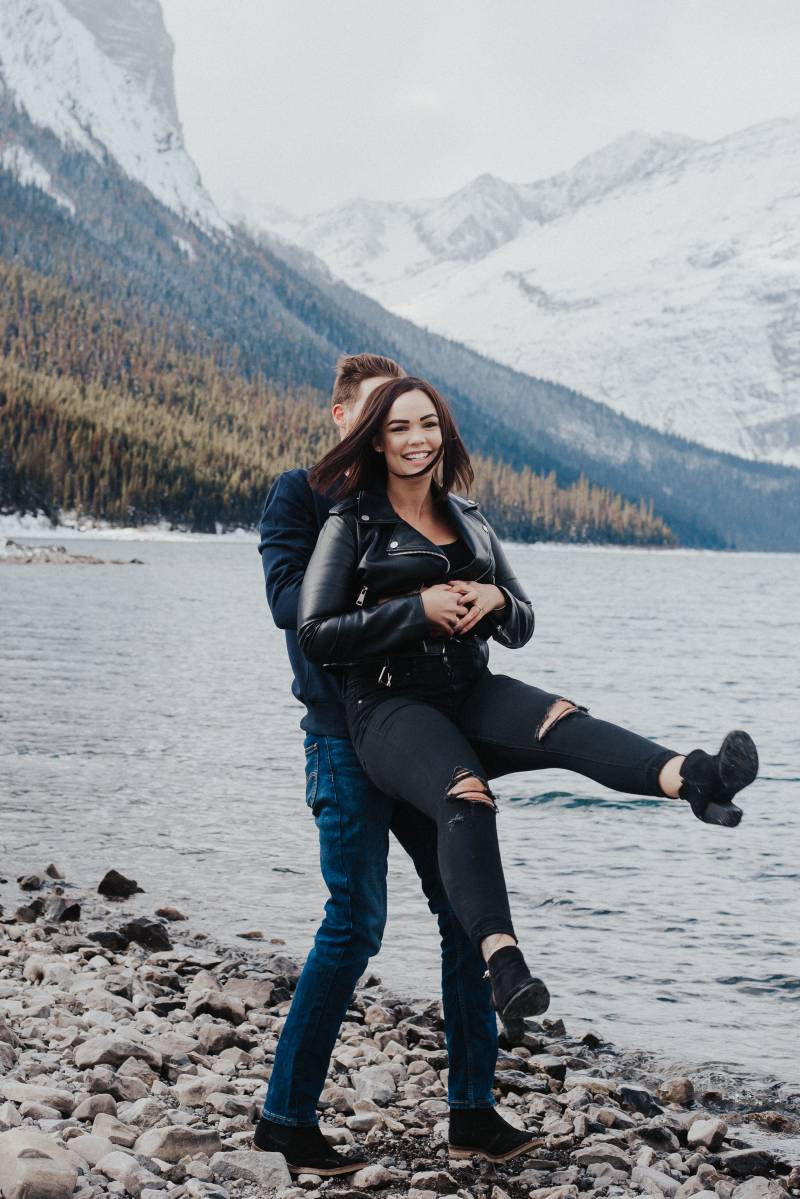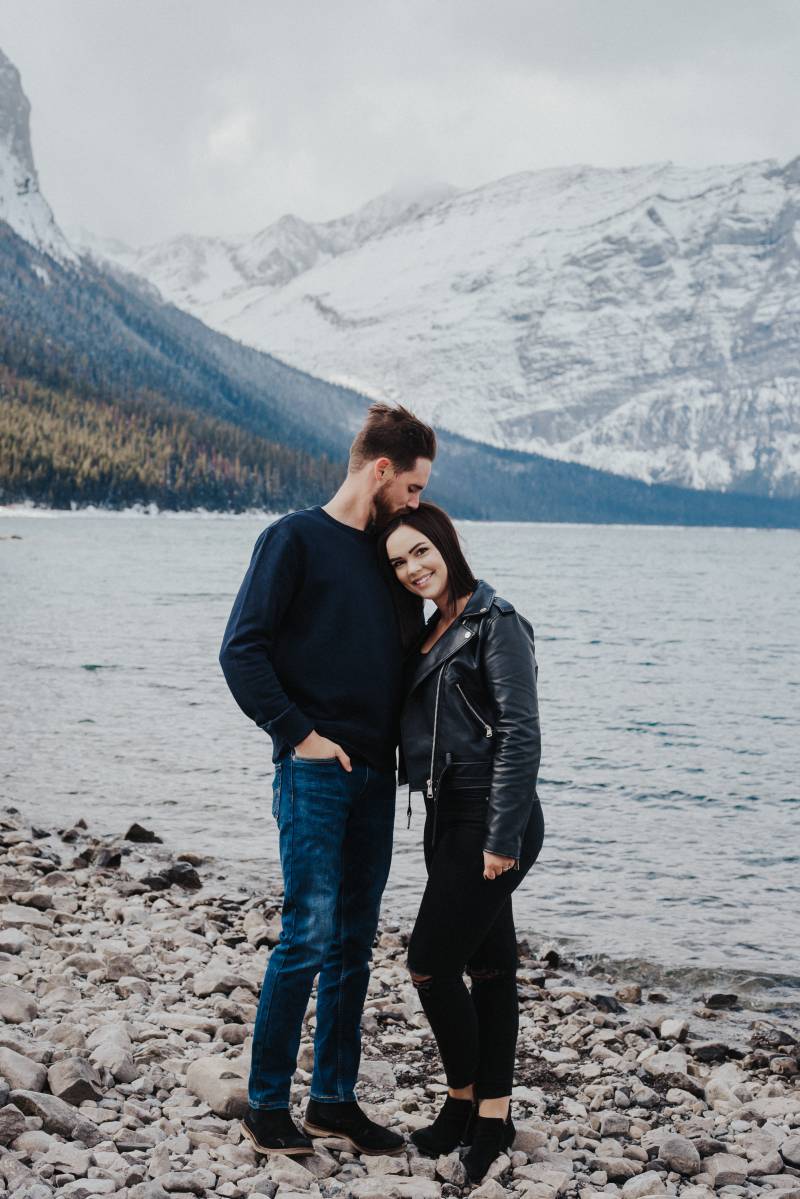 From the photographer:
A super cool thing about this couple is that they love to travel!!! They got engaged in Japan and are having their wedding in Nicaragua this March which I'm so excited to photograph! So doing their engagement photos somewhere outside of the city seemed like a perfect idea.
Proposal Story:
Jacob and I took a trip to Japan that we had been planning for about a year and I thought I knew every detail of, but little did I know what Jacob was planning. The majority of our trip we spent touring around Tokyo with one weekend getaway to Mount Fuji-which we blew our budget on but the hotel and spa looked so amazing that we couldn't turn it down! Getting from Tokyo to Mount Fuji involved a few hours of travel so that morning getting ready, I remember saying to Jacob "I'm not even going to do my hair or makeup, and wear sweatpants.. I just want to be comfy" and if anyone knows me, this is not like me at all! I thought it was a little strange when Jacobs reply back was "are you sure?! It's not like the train ride is very long, you don't need to be THAT comfy!" Which is very out of character of him. I didn't think much of it and ended up getting ready like normal.
After a few hours of travel we arrived at our hotel, which was just as beautiful as we imagined. Included in our stay was 24 hour private onsens (aka hot springs) and a wonderful fine dining dinner. After exploring a little that day we started to get ready for our dinner reservation. I went to go freshen up, and was trying to turn the lights on in the bathroom but ended up pressing an automatic button that fills the Jacuzzi tub. Nothing that I was doing was shutting off the water, and obviously not being able to read Japanese was not helping! We tried for about 15 minutes to get the water to stop, with no luck at all and now it was time for our dinner reservation! In a panic, we just ended up pulling the stopper for the tub, so at least if the water continued to flow.. it wouldn't make a mess and headed off to dinner.
Our dinner was beautiful, the table overlooked Mount Fuji and the lake and everything started off as to be expected. As more and more food started to come, it became a test of who was going to be more adventurous! Jacob normally eats anything and everything, but even some of these entrees he was a little hesitant on as we had no idea at all what we were eating. About 20 minutes into the dinner, Jacob gets up and says that he is going to quickly run up to the room to check on the tub and make sure we didn't have a problem. Again, I didn't think anything of it because that was a legitimate concern. He comes back after a couple minutes saying we were good and the water had shut off. We continued on with our very strange Japanese delicacies and ended with an amazing chocolate dessert. On our way back up to the room, Jacob was grinning from ear to ear and and wasn't saying much. We get to the room and I open the door, and the first thing I see is the ring laid out on the bed surrounded by chocolates, and I turn around to find Jacob down on one knee and he starts his speech with "well I hope the rest of our lives is better than that dinner we just had!" and it was just as magical as I always envisioned.