In recent years, the trend of wedding and engagement ring sets has gained immense popularity. These sets don't just offer a seamless visual appeal; they also bear profound symbolism. In this blog, we'll explore the charm and allure of wedding and engagement ring sets, popular styles, and tips for choosing the perfect set for your special day.
The Coordinated Beauty of Ring Sets
Jewelers design wedding and engagement ring sets to complement one another perfectly. They are often created as a matching pair, with the engagement ring and wedding band fitting together seamlessly. This coordinated design symbolizes the unity and harmony of the couple's love story, making it a meaningful and sentimental choice.
Popular Styles of Wedding and Engagement Ring Sets
Classic Solitaire Sets: These sets feature a single, stunning gemstone on the engagement ring, usually a diamond, set on a simple, elegant band. Designers craft the wedding band to nestle closely against the engagement ring, creating a unified and timeless look.
Courtesy of Pre-Wedding Glamour: The Magic of Bridal Previews
Halo Set: Halo engagement rings have a central gemstone encircled by smaller diamonds or gemstones. In a halo set, jewelers often contour the matching wedding band to embrace the shape of the engagement ring, enhancing the overall sparkle and allure.
Courtesy of Unapologetically in Love
Vintage-Inspired Sets: Vintage-style sets feature intricate details like filigree, milgrain, and antique-inspired designs. These sets are perfect for couples who appreciate the romance and charm of a bygone era.
Courtesy of Classic Wedding Bliss
Three-Stone Sets: Symbolizing the past, present, and future, three-stone engagement rings are paired with a wedding band that complements the design and style. These sets carry a profound message of enduring love and commitment.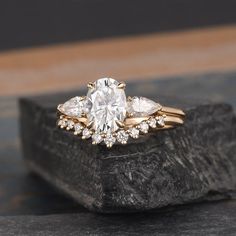 Courtesy of Etsy
Choosing the Perfect Wedding and Engagement Ring Set
Selecting the right wedding and engagement ring set is a deeply personal decision. Here are some tips to help you make the perfect choice:
1. Consider Your Personal Style: Think about your style and preferences. Do you prefer a classic, modern, or vintage look? The set you choose should reflect your individual tastes and personality.
2. Budget Wisely: Set a budget for your ring set and stick to it. Wedding expenses can add up quickly, so it's essential to find a set that not only appeals to you but also fits comfortably within your budget.
3. Ring Size Matters: Ensure you know your partner's ring size. Getting the right fit is crucial, especially for the engagement ring, which is often a surprise.
4. Quality Matters: Pay attention to the quality of the materials and gemstones used in the rings. Choose a reputable jeweler who can provide you with a certification for the gemstones and offer guarantees on craftsmanship.
5. Try Before You Buy: It's a good idea to try on different ring styles to see how they look and feel on your hand. This can help you make a more informed decision.
Wedding and engagement ring sets offer a beautiful way to symbolize the love and commitment of a couple. Whether you choose a classic solitaire, a dazzling halo, a vintage-inspired design, or a three-stone set, the harmony and unity of these matching rings will serve as a constant reminder of your enduring love story. Remember to take your time, consider your budget, and choose a set that truly resonates with your personal style and the love you share with your partner. When you find that perfect match, your wedding and engagement rings will become cherished heirlooms that symbolize your love for generations to come.