Is there anything as lovely as lavender? As one of our favourite scents and our favourite hues, it brings out something special inside us. Ariana and Matthew hosted friends and family at The Gathered for a crazy romantic garden wedding, filled with lavenders and sunflowers! Photographed Calgary wedding photographer by Film & Forest Photography, the bride and groom celebrated with an outdoor ceremony and a reception hosted in a clear tent, so guests could dance and mingle under the stars!
We are in love with Ariana's bridal style – her gown with it's off the shoulder sleeves give her a garden elegance that's timeless and romantic. Paired with a veil and her long hair flowing naturally down her back, she is the epitome of a garden bride! Hear more from the bride and meet the entire Creative Team after the jump!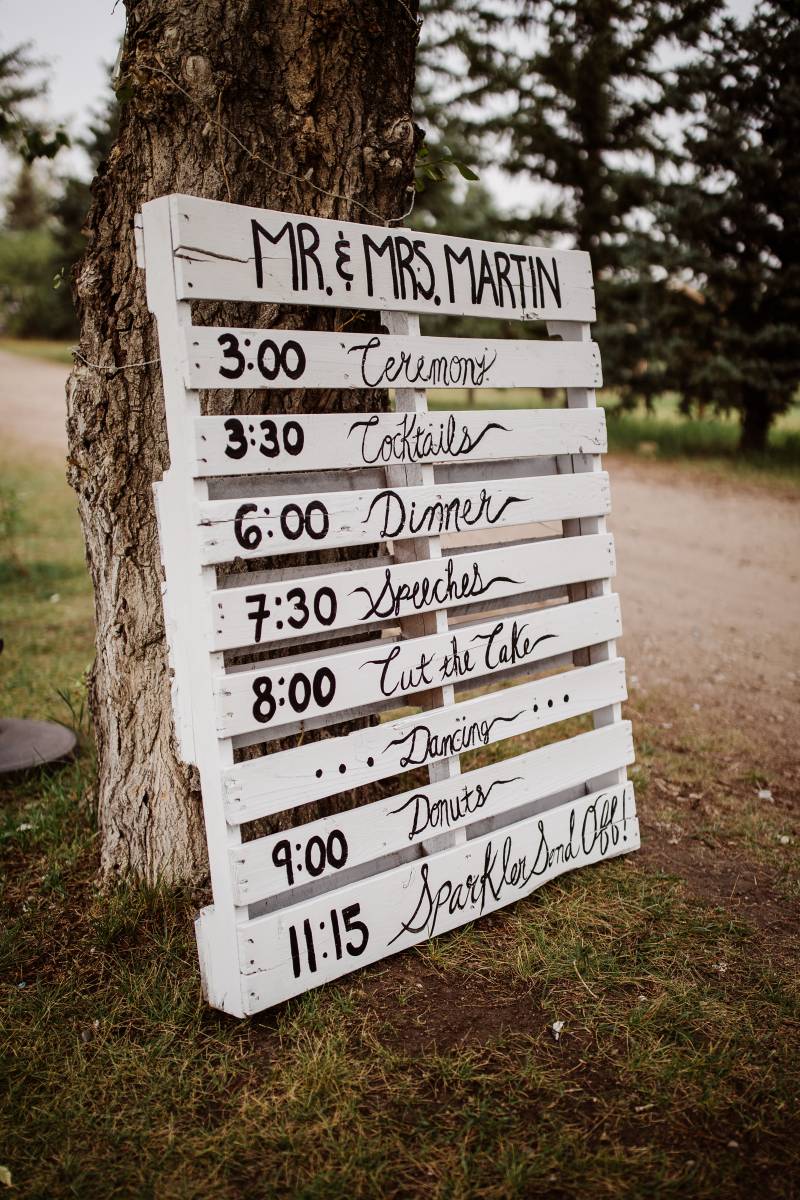 From the photographer:
With the bride's getting ready details of Chanel No. 5 to a first dance filled with hundreds of twinkling fairy lights, this chic farm wedding was handmade with love down to every detail. Ariana and Matt wanted a whimsical, intimate, rustic feel to their wedding with a lavender color palette (Ariana's favorite colour!). As soon as they found The Gathered they knew the venue was the perfect fit. The Gathered has a farm-to-table concept for their cuisine, and no wonder! This farm wedding venue even has a chicken coop on site!
From the calligraphy to the wedding cake, every detail was made by the couple's family and friends. The bride's veil and headpiece was handed down from her mother's own wedding day, and her mother's beautiful gold wedding sari was incorporated and wrapped around the arch at the ceremony.
A thunderstorm rolled in just as we were taking portraits, but Matt and Ariana totally embraced the downpour. The drizzling rain made the tent reception even more cozy!
From the bride Ariana:
"We loved the farm to table style food, the whimsical setting with the clear tent, old fashioned lights and and rustic furniture! A big selling feature for us was the locally sourced, homestyle food!"
Sources
Film & Forest Photography/The Gathered/Kensington Florist/Lavender Teacup/Sunny Wang (friend of the bride)/Marlow's Diamond Design/Beautiful Calgary Bride/Indochino/Sarah Seven/The Bridal Boutique/Show Me Your Mumu