Warm fall colours paired with sparkling gold and blush wedding details made Jennifer and Peter's King City Real Wedding an absolute delight! The couple had a perfect first look after a traditional Korean tea ceremony, and the photo of Peter's speechless reaction is heartwarming! Photographed by King City wedding photographer EC3 Moments, all the details of love and excitement are captured. Hear more from the photographer and meet the entire Creative Team after the jump!
From the Creative Team:
Jennifer and Peter started the day with a traditional Korean Tea Ceremony in which they dressed in their Hanbok and presented tea to honor their parents as their family and friends looked on. After the tea ceremony, they quickly changed, Peter headed out to the golf course first to wait to see his bride for the first time in an intimate first look. He was more than happy to see her in her full wedding gown after months of planning and the moment couldn't have been more perfect. As guests were arriving from around the world, finding their seat and waiting for their turn to see the bride for the first time, we could all feel the anticipation at the front steps of Kings Gold Riding Club. The place was decorated with autumn florals with touches of white, gold, green, grey, soft pink, and at the centre where Peter would tie the knot stood a beautiful gold floral arch. Peter's sparkling and watery eyes said it all, seeing the bride the second time was just as powerful as all eyes heightened the excitement in the air. How satisfying was it to say, "I do" and for them to exchange their rings and seal their commitment to one another! As the ceremony wrapped up with jumped into our own golf carts and drove up the valleys to find a perfect backdrop overlooking the vast golf course. How fitting that not only their attire transitioned but the season also from summer to fall. The foliage and colors of the changing seasons were all so vibrant, setting the mid-autumn tone of their day. They were stunning and photos with their wedding party were captured with the perfect setting light that made this moment so dreamy. This was a perfect finish to the bridal portraits as we headed back to the venue for some food. Back at Kings Riding Golf Club, the place was well decorated and even had some personal touches including the handmade mini moon cakes for the mid-autumn festival at hand. The wonderful staff at the venue cooked up an amazing meal for everyone to sit back, enjoy the dancing, games, and touching speeches. The night ended with some cake cutting and cupcake eating and with everyone making memories at the photobooth!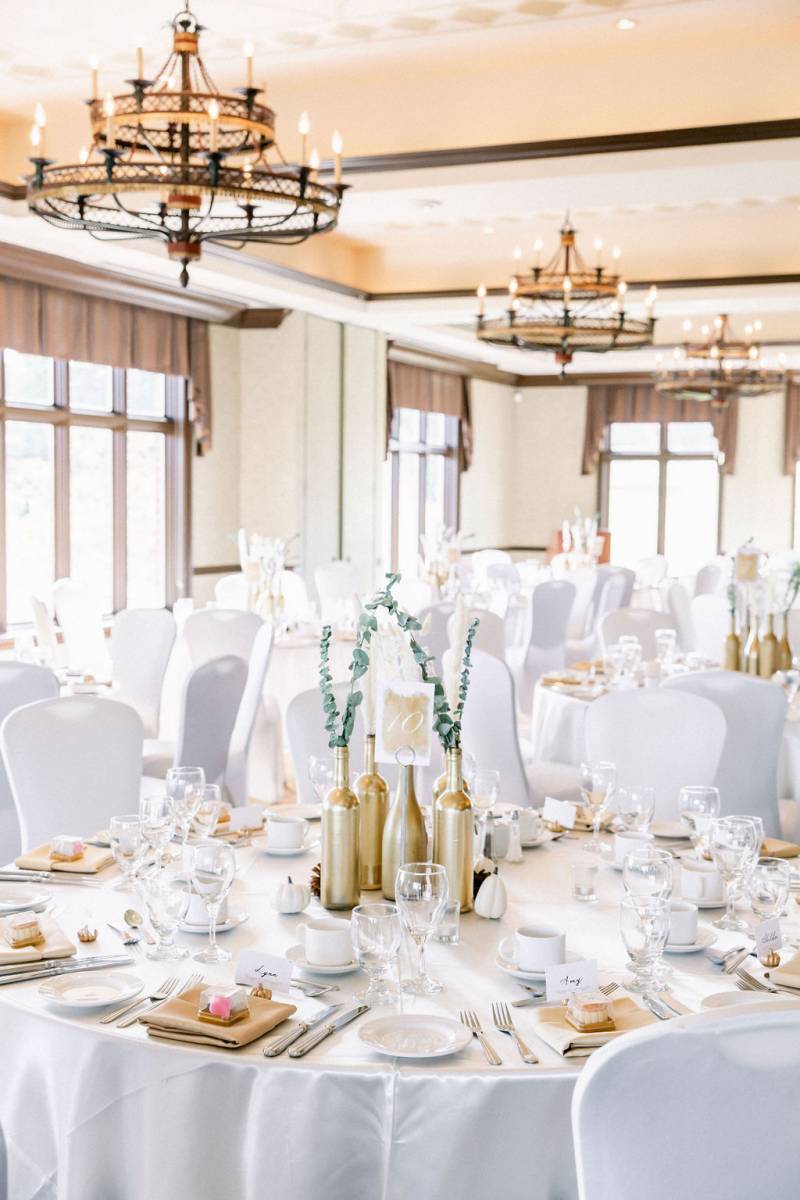 Sources
EC3 Moments/Kings Riding Golf Club/Her Majesty's Scone/The Jade Calico/Kleinfeld/Indochino/Molly Makeup Studio/EC3 Moments