A stand out florist can elevate your wedding to new heights. Flowers add drama, energy and ambiance, and are often the lynch pin of your wedding decor and style. When you are considering your florist, you want to work with one who has creative vision and experience, and who understands the spirit of your day. Creative Edge Flowers and Design is one of Calgary's premier florist, as Rhonda and her team work with wedding professionals around the city and the Rocky Mountains to create pictureaque weddings. It's their job to advise and style your wedding arrangement to keep it within your vision and within your budget, a fine line that can be challenging to achieve. When you find a florist who can accomplish this, you stick with them!
Today's Real Wedding, photographed by Nicole Sarah Photography, is the perfect example of how floral arrangements help create and build a wedding theme. We can't get enough of this bride's blush and ivory bouquet, as well as the towering floral arrangements that fill the reception. Hear more from from Creative Edge Flowers and meet the entire Creative Team after the jump!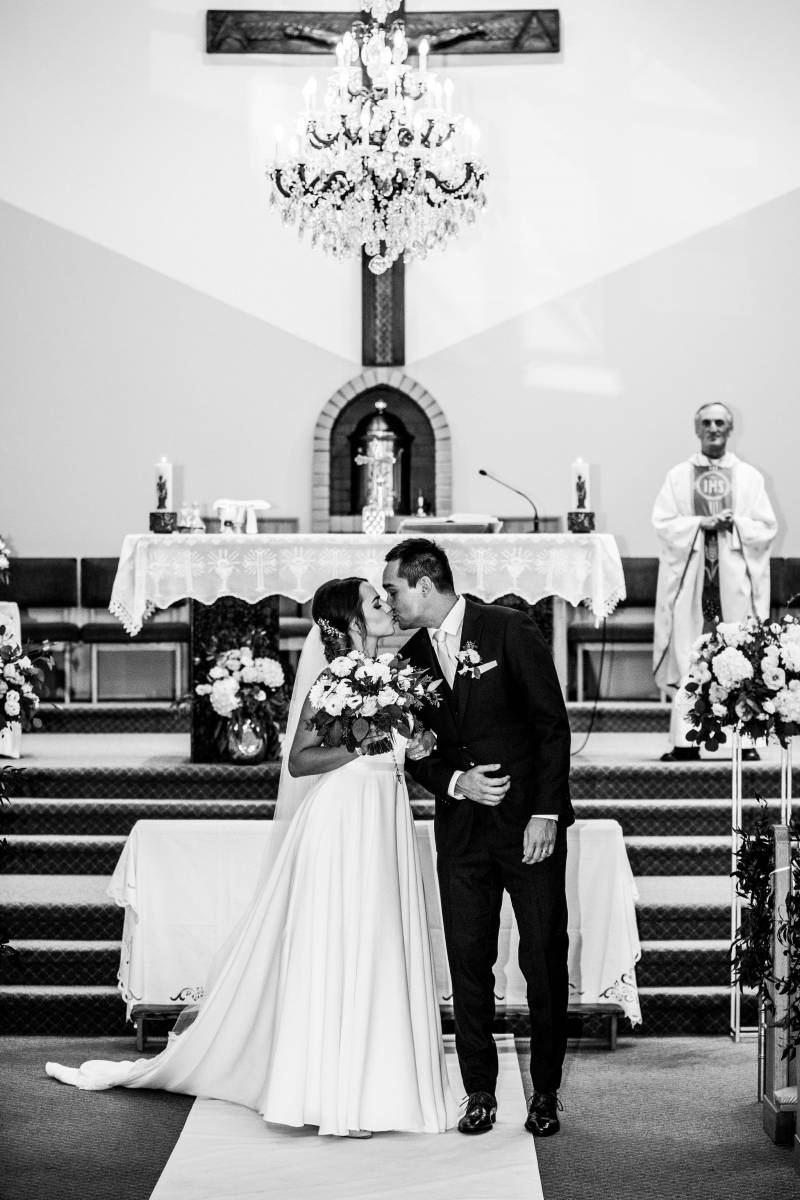 From the bride:
Our wedding day was filled with so much love, laughter, fun and elegance. We had an early start to the wedding celebrations that kicked off in the morning before the ceremony, where Antony (Groom) came over to Misel's (Bride) parents house with his groomsmen, close family and friends for a Croatian Tradition of "buying of the bride". This is how we had our "first look" but just in front of our closest family and friends, celebrating outdoors with lots of Croatian Music & Dancing and then off to the church we went.
The celebration continued on all day from our ceremony, photos, and into our reception. We welcomed all 400 of our guests with a "shots table" at the entrance with various traditional Croatian flavoured brandy. As the reception began, we started the night off with dancing our first dance prior to dinner. We chose a Croatian Song as we both have strong attachments to our Croatian background and in Croatia is where our relationship kicked off and our love for one another was formed. Following our 5 Course dinner, we had a local Calgary Croatian Band start off the dancing with live music. The dance floor was always full with lots of traditional Croatian dancing with our guests full of energy and enjoying themselves all night. The DJ took over for the last hour and a half, continuing the party onwards till 2:00am where the guests were begging the DJ to keep playing. Throughout the night you would see more individuals on the dance floor rather than sitting down on their chairs. Our top moment of the night was definitely dancing the night away with one another, as husband and wife.
While planning our wedding, my main vision was for timeless elegance with LOTS of florals and candles. I chose to go with lots of whites, creams, neutrals, small hints of light pink and lots of greenery. I have always loved this combination and I want to be able to look back on my photos and for them to never look outdated.

Sources
Nicole Sarah Photography/Hotel Arts/Our Lady of Marija Bistrica, Croatian Catholic Parish/Creative Edge Flowers/Beyond the Proposal/Something Borrowed Beauty/DkEnvy Salon/Whippt Desserts & Catering/Macarons by Ollia/Pearl & Dot/Revolution DJ:/Ambassador Limousine Service/Vista Print