Holly and Abraham's Rocky Mountain wedding is straight out of a dream! Photographed by Nicole Sarah Photography, this gorgeous couple welcomed their family and closest friends to the Fairmont Banff Springs to witness them say their vows and begin the next chapter in their lives. Planned and designed by Evelyn Clark Weddings, a modern decor scheme of gold, black and touches of ivory graced each part of their wedding.
Holly's wedding gown is truly a work of art by Monique L'huillier, with an architectural neckline and billowing draped skirt, which created a modern ballgown silhouette. Abraham looked especially dapper in his white tuxedo from Tom Ford, and this couple embraced their personal style and aesthetic when planning their wedding. Hear more from the bride and meet the entire Creative Team after the jump!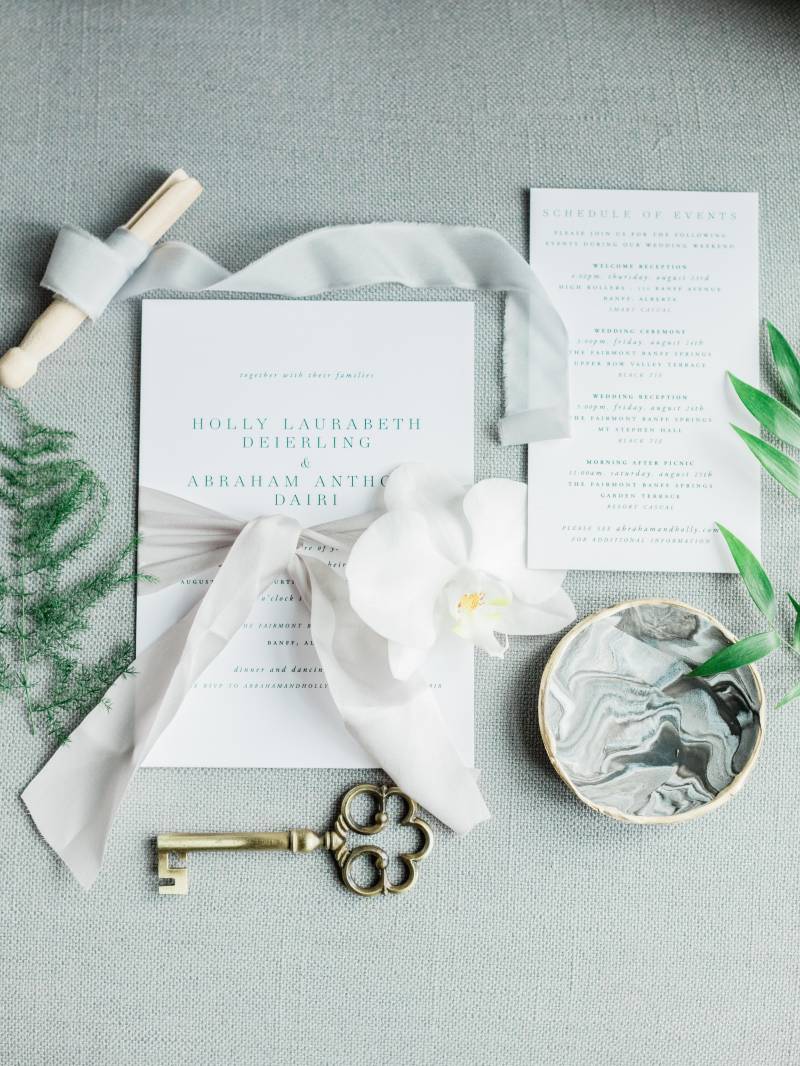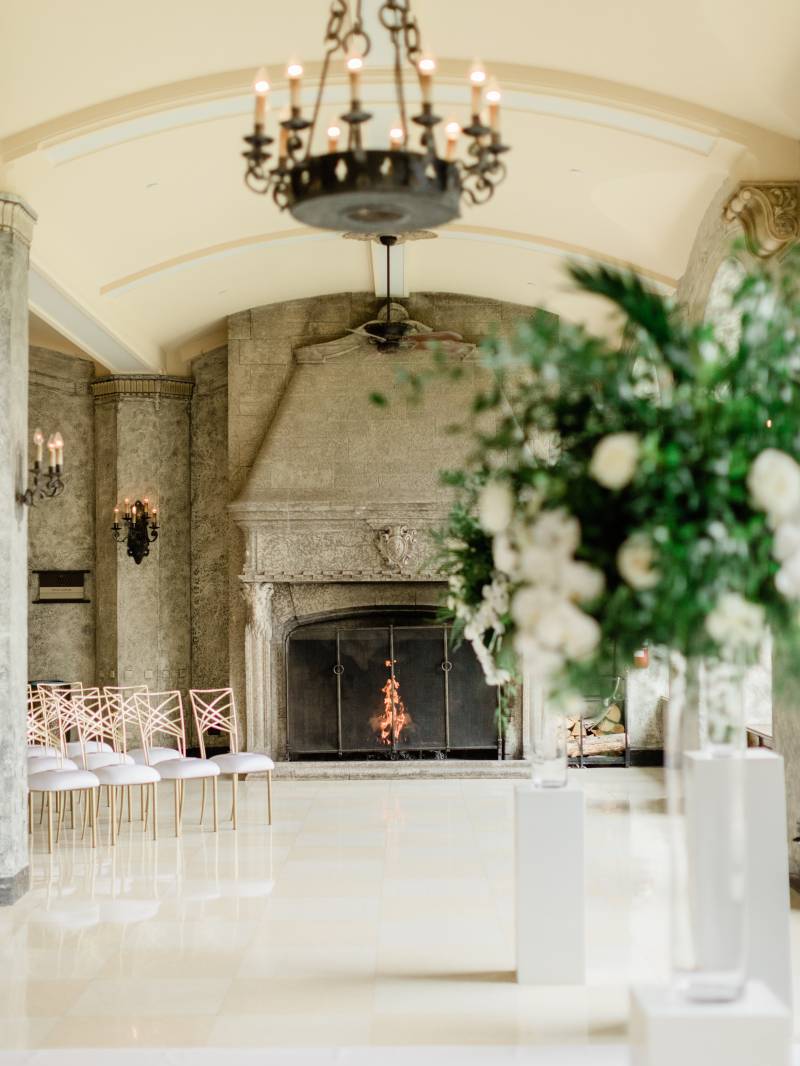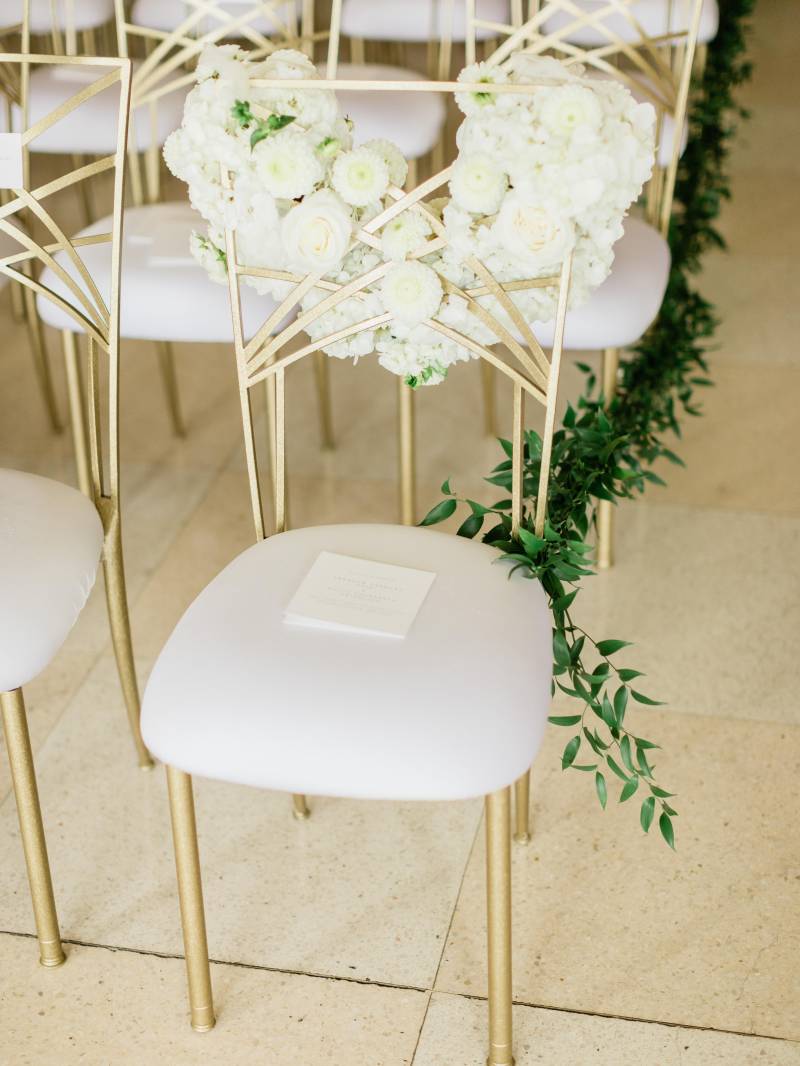 From the bride herself:
How did you meet?:    
Abraham and I met through a mutual friend group. His coworker buddy was dating my coworker from Nordstrom and through them, our paths crossed a few times. Abraham came on strong, but I rejected his advances and he began casually dating someone else. A few months down the road, we were both single and our mutual friends invited me to meet them at a dueling piano bar. I had just received a promotion that day, so Abraham began ordering bottles of champagne and requesting Disney songs for me the minute I walked in. We stayed up talking that night until 3am, and I finally accepted Abraham's invitation for a date the following week. Our first date was dinner at a French restaurant overlooking the waterfront in Seattle. When dinner was finished, Abraham had a series of crazy ideas that led us to drinks at a second bar, a ride on the Seattle ferris wheel (Abraham is claustrophobic and tried to hit the emergency button), and eventually on a ferry to an island 45 minutes away. Around midnight we realized we were about to miss the last boat back to Seattle - We hightailed it to the ferry landing and eventually made it back to Seattle. Within a few weeks, we were completely inseparable.
Engagement story:
Abraham and I joined some close friends for dinner on the Seattle waterfront on a perfect Seattle summer evening. I kept looking over at Abraham, in his crisp white shirt with rose in hand, thinking he look liked he belonged marina-side in Monaco. Later that evening, at a Hawaiian karaoke bar (and after a few cocktails) I casually asked Abraham if he would want to get married the following summer in Italy. We both agreed that we did, and the rest of the table caught wind of what was going on. Our friend tied a cocktail straw into a ring, and I put it on Abraham's finger. After about 20 minutes, we both realized the gravitas of our decision and began fully freaking out at our lack of preparedness (Abraham is very traditional and hadn't asked my parents). Once we were home, Abraham got down on one knee and proposed with the same cocktail straw. The next morning, we let his three sisters vote via conference call as to whether on not we were actually engaged - we got a unanimous "yes." From there, we called my parents and began planning. About 10 cities and 100 venues later, we settled on Banff Springs.
THE WEDDING DAY
Wedding theme and colours (explain the reason behind your decision), number of guests, top moments, wedding song, favorite details and honeymoon info.
Theme/Colors: We based the styling of our wedding on our home décor and personal style preferences. We didn't want anything too literal or "themed," but it was important to incorporate elements of our eccentricities. Our house is covered in leather, velvet, ceramic animal heads, historical figure busts painted black, fun art, etc. I lean toward masculine styling, and Abraham is a bit of a Liberace, so we did our best to reach a happy medium. We also both avoid color at all costs, so a color palette of black, white and gold was a given. We did end up incorporating a lot of greens - I wanted to keep the florals from being too girly, and we thought it would be an appropriate foil to our use of jungle/safari animals.

118 guests. Our decision to have a destination wedding was largely driven by our desire for a semi intimate wedding. Had we stayed near Seattle, our headcount would have quadrupled.

Top Moments:

Holly: Surprising Abraham and his Lebanese family with a traditional Zaffe group. It's very traditional to have these kinds of performances at Lebanese weddings, and it was important to me to pay respect to their culture. Abraham's dad cried when he saw them come out!

Abe: My pre-party and dancing prior to the ceremony

Seeing our families and friends come together throughout the weekend - We've been shocked by the relationships that were formed or strengthened.

Seeing each other from the ends of the aisle - We were so glad we forwent a first look. It was a perfect moment.

Wedding songs:

We began the ceremony with a procession song that was a favorite of Abraham's late mother, What A Wonderful World.

I walked down the aisle to "Ulay, Oh" which is a song written about performance artist, Marina Abramović and her former lover and creative partner, Ulay. The song is the story of their breakup, but Abraham and I were moved by the depth of their relationship and the haunting melody.

For our first dance, we wanted something light and playful to get the party started. We chose "For me, Formidable" by Charles Aznavour. In addition to the song being a memory from my time spent living in France, the cheeky lyrics were well suited to the humor and lightheartedness that Abraham and I share.

Favorite Details:

The team of vendors we assembled with Evelyn was one of my favorite parts of our wedding. We truly feel like we had an A-team of wedding professionals who were as invested as us when it came to making the wedding perfect.

The custom neon sign that is now hanging above our bar!

Our green centerpieces - Lyn totally got our vision

The white animals that we cut and painted to hold greenery. We were so worried about taking on a DIY, but we loved how they turned out

Late night Seattle Dogs (hot dogs with cream cheese and grilled onions), and fried chicken sliders. Best way to end the day!