From the Bride
"All in all, with all the planning and re planning due to the pandemic, we weren't even sure we were going to have a wedding but even if it was just the 2 of us we were getting married ! Luckily by the time our date came we were able to throw something together, just unfortunately with a lot less family and friends, but luckily everyone understood! We honestly couldn't have done it alone and we are so appreciative of those who helped and what a great amount we accomplished, it was just what we wanted. Although we had a few stressful moments along the way, we ended up having those close to us that we love, fantastic food & drinks , and definitely a time to remember by the end of the night. The changes worked for us and we made the best of it!
Top three moments: Easily the chat I had with my dad while he drove me up to the ceremony with his team of horses and chariot , although it was only a minutes drive it felt a lot longer. It was a good thing, we spoke about it being ok to disagree at times and how to forgive, about how Stu is such a hard working man and how he treats me so well and how he fits in our family and just so much more.
Following that, I would say getting up to the alter seeing my groom, Stuart. I zoned out as soon as I got to him, trying to keep my cool by laughing my nerves out haha. It was a very fun, relaxed feel for a ceremony and having it placed in the centre of a small forest made it feel even more intimate.
And the third was our last photo of the night! We snuck away, just up the road on a quad (four-wheeler) to capture the stormy sunset. It gave us a short time away from everything and everyone. It was a beautiful sunset and it was just nice to take a breath of fresh air for those few moments and enjoy the rest of the night after!
The top 3 details from our day would have to be the venue, the cake and the vibes! Everything being hosted at my family farm (slight change due to covid) was a blessing. We had a great location that suited us completely being comfortable in our own environment amid worldwide chaos, not to mention having so many meaningful spots along where I grew up and where Stu fell in love with … well with farming haha and to have a few photos with our horses was just a plus for me!
Our delicious gluten free cake was made by my oldest brother. He is quite the baker and since I made his cake for his wedding it only made sense that he returned the favor. It was exactly what we pictured and definitely pulled everything together for our aesthetic, right down to the feathers .
And finally, for me, everything in-between! It was a very woodsy natural feel, being married outside in a circle of trees, our wooden windbreaker wall & macramé backdrop for the head table, to the deer antler in my bouquet! We couldn't have done it without all the help of our family and friends and such an incredible group of vendors! "
-Alena (Bride)
Confetti Directory Members Featured In This Shoot
Canada's most extensive wedding vendor directory, we feature vendors for weddings of every style, size and budget.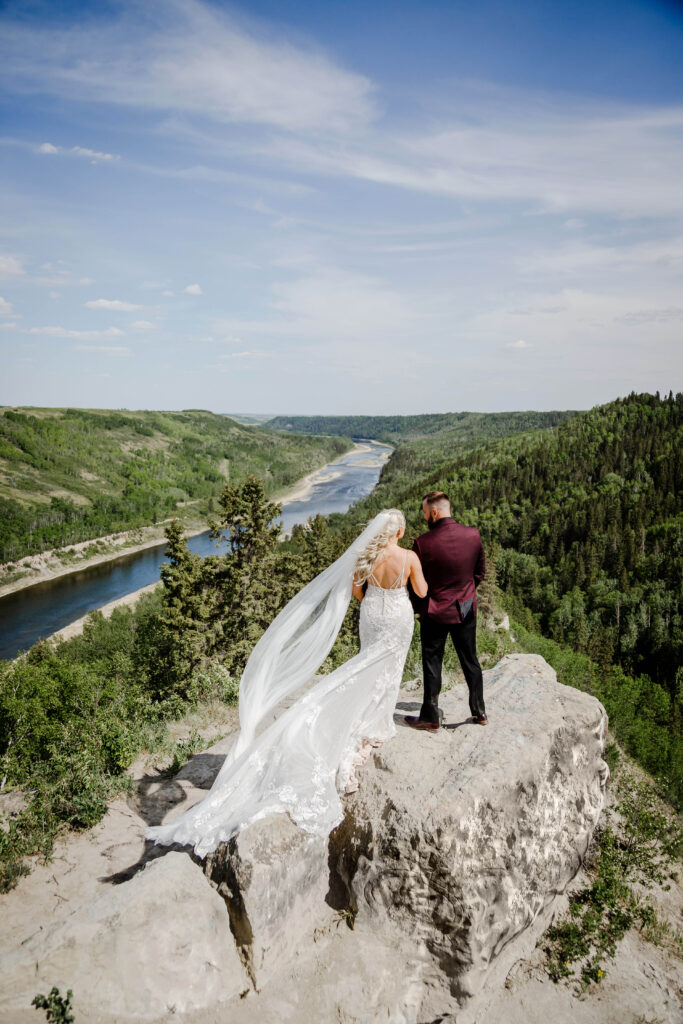 Weddings By Ever After
Wedding Photography
Meet the Creative Team
Is your business featured in this post? Click here to get started.