From the Creative Team:
Step into the ethereal realm of timeless elegance and refined sophistication with this ivory bloom bridal session. The details of pressed flowers to the modern uptown makeup vision was a defining moment for this inspiration. The gown, classic in its style, trendy in its design with a one shoulder fitted gown.
Bold jewelry pieces elevated the bridal style to fit the industrial tones. Delicate details such as a hand-lettered vow book with silk ribbon and handmade paper softened these statement accessories.
The venue was a dream to design in! Its industrial creation and versatility to host all styles of weddings and events was perfect. The white brick walls exuded a sense of timeless charm, while the black and gold trim added a touch of sophistication. The upscale bar, adorned with captivating copper penny tile, served as a striking focal point within the space.
While designing the table settings, we opted to add ghost leaves under the clear plates. This subtle addition served to emphasize the presence of dried florals that wove their way throughout the wedding inspiration. From overhead instalment to cake florals, table centrepieces and bridal elements, the florals played a major role in this session.
The cake itself was a true masterpiece! It was a vision of texture that flawlessly captured the essence of this style. Resting on a vintage cake plate made of clear glass, the cake exuded an air of elegance. Dried hydrangea blooms and ghost leaves covered the top, creating a seamless harmony with the overall aesthetic.
A vintage ivory channel fan back armchair served as the perfect spot for capturing timeless bridal portraits. The design of the vintage ivory channel fan back armchair created a captivating backdrop. It provided a canvas for the bride's natural beauty to shine through, while simultaneously showcasing the artistry of her exquisite bouquet.
An industrial bar cart was styled with the cake, florals, and drinks, which added a sense of playfulness to the shoot. Custom drink markers also added a touch of fun. Personalized place names were meticulously crafted for each plate. Custom drink and bar menus were created to enhance the guest experience. A welcoming sign added a warm touch, completing the array of thoughtfully curated details that adorned this extraordinary bridal session.
Confetti Directory Members Featured In This Shoot
Canada's most extensive wedding vendor directory, we feature vendors for weddings of every style, size and budget.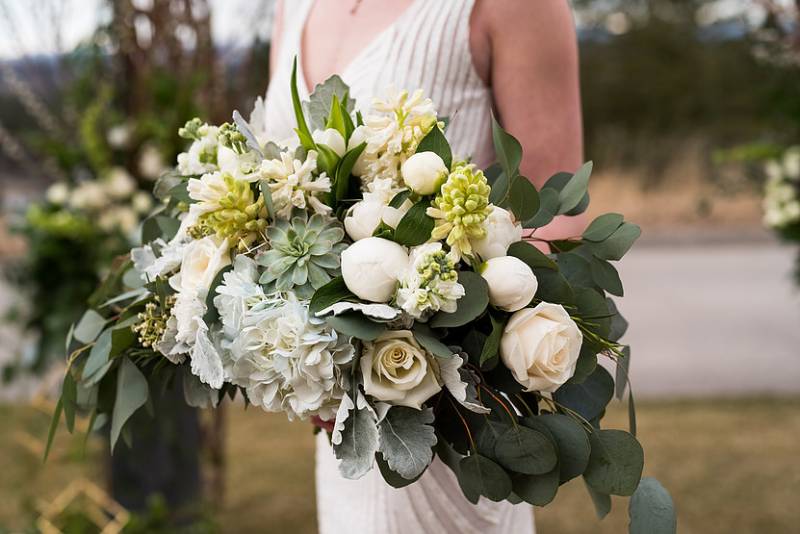 Creative Edge Flowers
Wedding Flowers
Black Dog Bakery
Wedding Cake
Meet the Creative Team
Is your business featured in this post? Click here to get started.