From the Creative Team:
This styled bridal shoot was curated to capture the essence of a modern yet bohemian wedding day. Aiming to offer couples fresh ideas for their own special day, this team drew inspiration from the latest trends in the wedding industry. The Brownstone in downtown Calgary was the perfect location with its chic and understated ambiance. The venue's colour palette, consisting of cream, taupe, and dusty rose, added that modern touch to the overall aesthetic.
To create a unique backdrop for the couple, we included a stunning and versatile floral installation. The one-tier cake was elevated with a dried floral topper, adding texture and visual interest. The layers of Earl Grey-flavoured cake were a delightful indulgence for the senses. To play with lighting opportunities and enhance the moodiness of the venue, we set the shoot in the mid-afternoon, creating captivating shadow play.
The dried floral arrangements and vintage-inspired furniture, sourced from local vendors, added an air of romance to the setting. The bride's gown, from Blush & Raven Bridal Boutique, was simple yet elegant, with a flowing cape replacing the traditional veil. The groom's attire featured on-trend pieces, stepping outside of the norm for a refreshing twist. Pearl accents elevated our bride's classic wedding makeup, creating a timeless look that perfectly complemented the modern bohemian vibe of the shoot.
This styled shoot showcases that there are no rules when it comes to wedding fashion in today's world. Couples are encouraged to choose elements that resonate with their individual style, making their special day uniquely their own. We hope this shoot inspires couples to think outside the box and incorporate fresh and exciting ideas into their own wedding.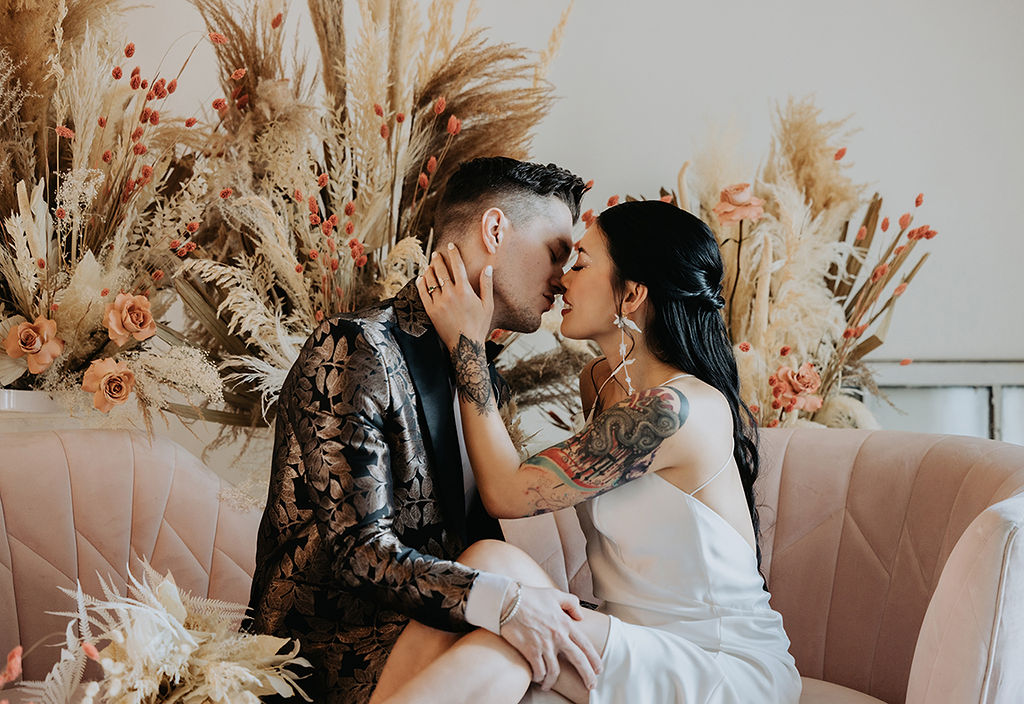 Confetti Directory Members Featured In This Shoot
Canada's most extensive wedding vendor directory, we feature vendors for weddings of every style, size and budget.
Black Dog Bakery
Wedding Cake
Meet the Creative Team
Is your business featured in this post? Click here to get started.