What says luxury more than renting a private island for your wedding? The Rocky Mountains gives you perspective on how big, beautiful, and transcendent our world is, and to take that in uninterrupted is an opportunity few would miss. To breathe in the air, to stargaze, to get lost in the views, fill your spirit. Imagine that experience on your wedding day, when your heart is already bursting?
Canadian Rocky Mountain Resorts (CRMR) offers couples three different options to make this dream a reality. With three unique properties in various locals, you have the option of booking Buffalo Mountain Lodge (Banff), Deer Lodge (Lake Louise), and Emerald Lake Lodge (near Field, BC) for your Rocky Mountain wedding venue. The Rent Your Own Island or Lodge is the perfect opportunity for a more private (and affordable!) option for larger groups, and for guests who dream of that wow factor. Having an entire Rocky Mountain lodge to yourself for your wedding day or corporate retreat will leave your guests with amazing memories.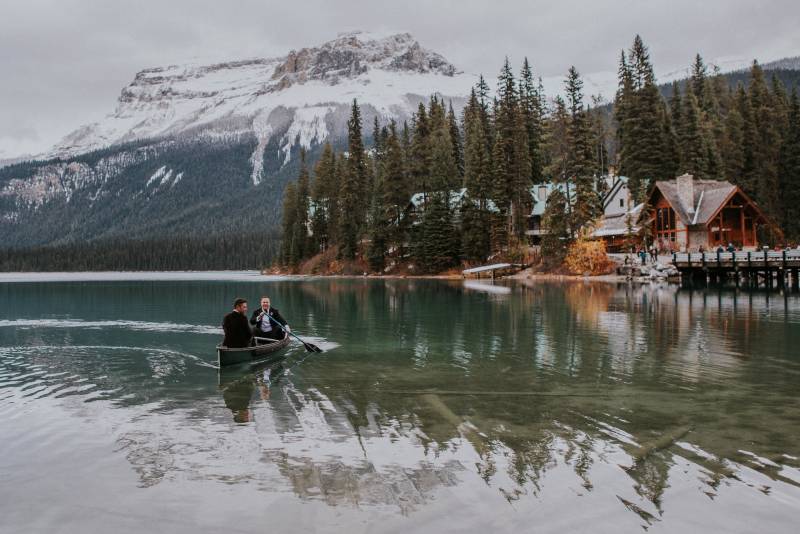 When you Rent Your Own Lodge or Island with CRMR, you enjoy the full amenities and services of each location. Every function room, guest room, and convenience are yours and yours alone, offering complete privacy and comfort, an incredibly unique Canadian Rocky Mountain experience.
World-renowned for its beauty, Emerald Lake Lodge is their most popular Rent Your Own Island destination. Emerald Lake Lodge is located on its own island and includes a formal dining room, 85 well-appointed guest rooms, conference facilities, reading and sitting rooms, various viewpoints, games room, and epic upper and lower verandas boasting scenic views, perfect for wedding photos.
Buffalo Mountain Lodge is a hidden gem in the Rocky Mountains, just off the beaten path in Banff on Tunnel Mountain Road. Here guests can Rent Your Own Lodge and have all 108 guest rooms, conference spaces, and amenities all to themselves. The lodge includes a formal dining space, stunning forest and mountain views, and frequent visits from elk, deer, and other furry neighbors.
Deer Lodge is located just moments from the shore of iconic Lake Louise and offers a historical ambiance with its 71 guest rooms hosted in a hand-hewn timber lodge, featuring oversized stone fireplaces and cozy sitting rooms. The benefits of taking advantage of Rent Your Own Lodge at Deer Lodge are incredible. The lodge includes a formal dining room, quiet reading, and sitting rooms, conference facilities and a games room. It also features a rooftop hot tub that offers stunning views of Victoria Glacier and the mountains year-round.
If the Rent Your Own Island or Lodge option is lighting a fire in your wedding plans, the best time to take advantage is from September through April. Those months are the most affordable time of year, and they offer some of the most scenic views and photo opportunities. Fall, Winter, and Spring wedding photos are absolutely stunning in the Rockies and provide a peaceful respite from the bustling peak seasons in our National Parks. Additionally, availability in the guest rooms and wedding spaces are much more flexible in the shoulder season, so you can find the ideal dates you prefer for your wedding!

To learn more about booking your Rent Your Own Island or Lodge, visit the CRMR website, get in touch with their team directly, or view their full wedding package.