This Edmonton real wedding inspiration is the an absolute perfect mesh of rustic and geometric, two themes we don't often see used together, especially not so cohesively! From Edmonton wedding planner Sugar Plum Events and Edmonton wedding photographer Kyra Jasman Photography, highlights our hearts are loving include the incredible geometric ceremony arch See more ceremony arches the monogrammed glassware and how it holds desserts and appies, the spectacular monogramed placesetting acrylics and the bride's sweet, romantic wedding gown. Hear more from the planner and meet the entire Creative Team after the jump! Meet more wedding planners and designers
From the Creative Team:
This inspiration shoot began as any other- expressing my design visions in a lush, organic and sunny way. As I designed the elements and worked in the meaningful details, I realized that I indeed knew this love story.
This was the love story of my best friend and her boyfriend. Two people that without question, jumped on a plane from Vancouver from their busy jobs as a doctor and the owner of a large construction business to relentlessly support me.
Because they without a doubt will be married, I knew how important this experience would be. Whether playing dress up or not. I had a responsibility to make this memorable for them, not just to get some great shots.
The venue was the perfect environment for them. The warm wood embraced the most silky rays of sunshine through the massive barn doors, the chic chandelier added a sparkle of opulence and the outdoor lounge space was kissed with just the right amount of dew. The tone was set and it was like something out of my dreams.
We had a full team onsite.
Hair, make up, men's hot shave, bartender, catered "comfort food" station, florals, photographer, vidoegrapher and musicians. We were all there for the shoot, but we were in it for their love.
Patricia and Scott arrived to the barn in their matching "Better" & "Together" shirts that we had designed "just for fun". They had no idea what they were walking into.
Patricia's gown fit her like a glove and flowed and bounced with every breath she took. Scott knew this was only a photoshoot, yet his face was beat red all day with anticipation. At one point, we though he was getting way too nervous and was going to bail on us. The shoot was inspo was the feelings could have been more raw.
I wanted to commemorate this moment in a way that could transpose into heirlooms. So we have Scott handwrite a message to Patricia and Patricia handwrite a note to Scott. Neither of them knew the other did it or what this would be for. Patricia's note to Scott was engraved in her exact handwriting on Scott's custom cuff links and Scott's note was engraved onto Patricia's bouquet charm. Scott's suspenders were embroidered with the initials of the place they met and the date. Little pops of surprises throughout the day.
When it was time for the first look, it was go time. I knew what their favourite song was and hired a local custom wedding song writer to perform the acoustic song as Patricia walked up to meet Scott for a real life first look. Neither of them knew this was happening so the second that first note left the performers lips, pure magic began. The tap on Scott's shoulder was real, the beaming smiles were real, the chemistry was real. We got the shots we needed and they got a moment back that would have otherwise been lost forever. Even though we had about 20 people around them with cameras, they somehow managed to create their own little sanctuary right in front of us and soaked in the moment all alone.
After a romantic, playful shoot, there was a full band waiting for them inside and a comfort food station with all of the best midnight snacks and Build Your Own Caesar Bar. When they sealed the experience with a first dance, these two bet the house right then and there.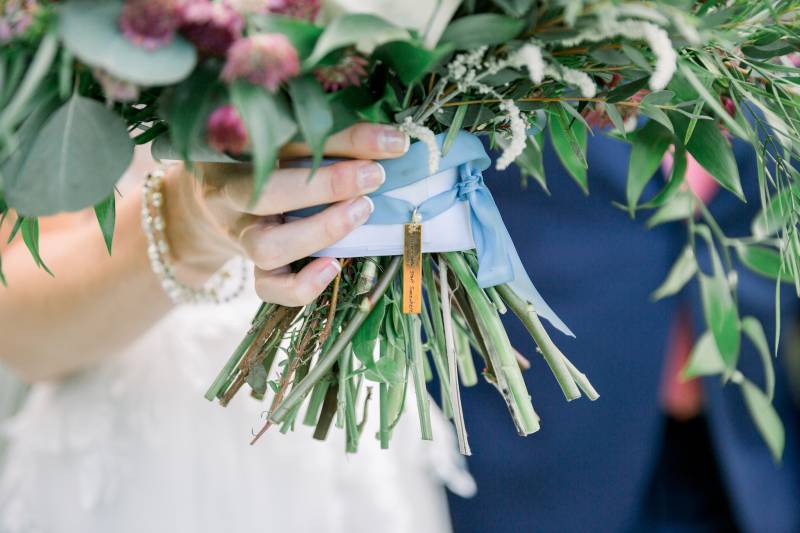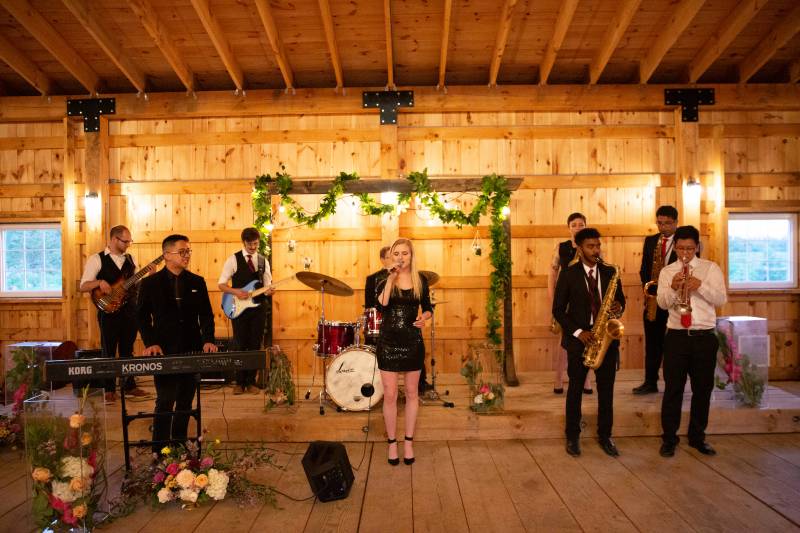 Sources
Kyra Jasman Photography/Have and Hold Wedding Films/Lions Garden/Sugar Plum Events/Special Event Rentals/Sugar Plum Events/Bridges Catering/Wild Rose Cakes/Wedding Design By Anika/Cerise Floral Studio/Delica Bridal/Derks Formals/Beauty Luxe Make Up Artistry/Avenue Salons/Joanna Bisley Designs/Steven Sware/Apollo Music/Maple Propeller/Engravables Design Studio/Spence Diamonds/Designs By Kara-Marie/Just For You Creations/Poppy Barley/The Mens Room/Dochriste Monograms/Pinocchio Icecream