When you ask a couple what their wedding theme is, most couples use descriptive words as opposed to concrete ideas to describe their theme. Romantic. Classic. Elegant. These words allow for individuality and creativity within a theme, and for flexibility when making planning choices. But that can also make it hard – with so many options to choose from, it can be a little overwhelming. That's why sometimes, having a concrete theme can be not only stunning but also a planning blessing!
Emma and Peter choose to share their love and passion of the classic story Lord Of The Rings and The Hobbit by J. R. R. Tolkien as their wedding team. Filled with magic and adventure, it's the perfect theme for a literary couple, as weddings truly are the start of a lifetime of love and adventure! Photographed by Calgary wedding photographer F8 Photography, Emma and Peter choose earth tones of olive green, taupe, cream, and gold to give their wedding a Middle Earth feel. Holding their wedding at Calgary wedding venue Valley Ridge Golf Club, which has the perfect outdoor space to replicate a shire, it was all in the details that made this theme come to life!
Emma's bridal style has all the perfect details for a bride from Middle Earth. From her gold leaf head piece that framed her long flowing hair, to her gold and white embroidered shoes. Peter chose to forgo a coat and sported a peacock and wood bowtie as the standout piece of his ensemble. We love everything about this wedding – hear more from the couple and meet the entire Creative Team after the jump!
From the couple:
When I first told people that our wedding was going to have a theme, most of them looked at me as though I had two heads (my husband included). It was so wonderful for us to see the look of surprise on everyone's faces when they saw the decor and it was elegant, yet geeky. I had never wanted it to be over the top, so our special day incorporated various subtle nods to our love of The Lord of the Rings/The Hobbit, wrapped up in an earth tone colour scheme. The weather was ominous, especially given our outdoor ceremony, but we did get a beautiful rainbow which made for an amazing photo opportunity! My favourite moment was our speeches. We wanted our wedding to include our friends and family as much as possible, as so many of them had traveled great distances to celebrate with us, and so we had made the decision to open up the microphone to whoever wished to speak. It was heartwarming to hear stories from our childhoods, both flattering and embarrassing, and people's favourite memories of us; both together and apart. We couldn't have asked for a more perfect day.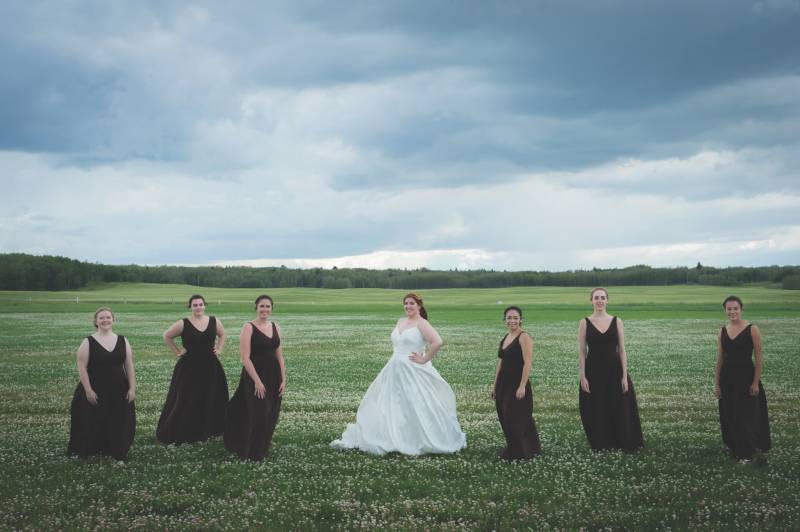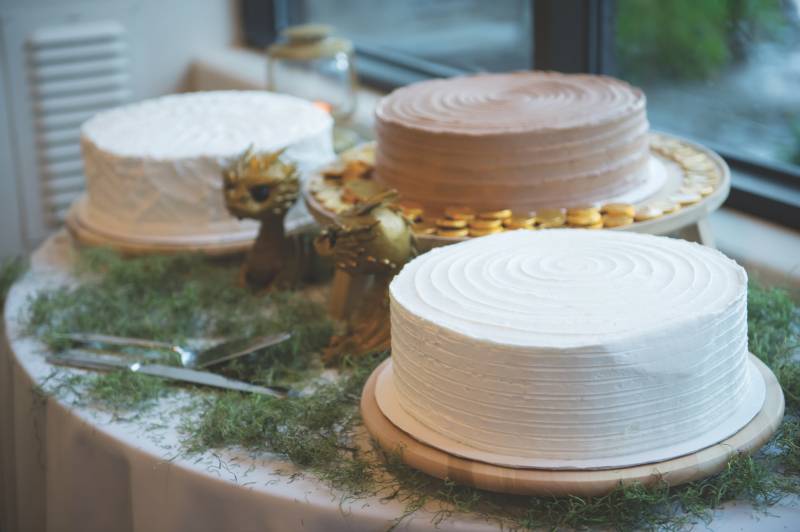 Sources
F8 Photography/Valley Ridge Golf Club/Enduring Promises/Reflections Wedding Designs/Great Events Rentals/Flowers at the Market/The Social Page Design Studio/Brackish Brand/Cookie Mama/Tiffany & Co, Stonebrook Jewellery/Stephanie Bye/Laura LaCroix and Deanna Williams/Moores Clothing/Beautiful Bride/Novia Mia Bridal/Aeron E. King Goldsmith/Pez Productions/WowBooth