Timeless, modern romance. Jennifer and Mike's real Rocky Mountain wedding is a total delight, filled with pops of navy blue, burgundy, and fuchsia. Photographed by Rocky Mountain wedding photographer Corrina Walker Photography and planned and designed by Rocky Mountain wedding planner Mountain Bride, the couple had an exceptionally sweet wedding ceremony, with a flower arch from Rocky Mountain wedding florist Flower Artistry. The reception was filled with elegant decor and touches of golds and ivory gave the evening added glamour. Hear more from the planner and meet the entire Creative Team after the up!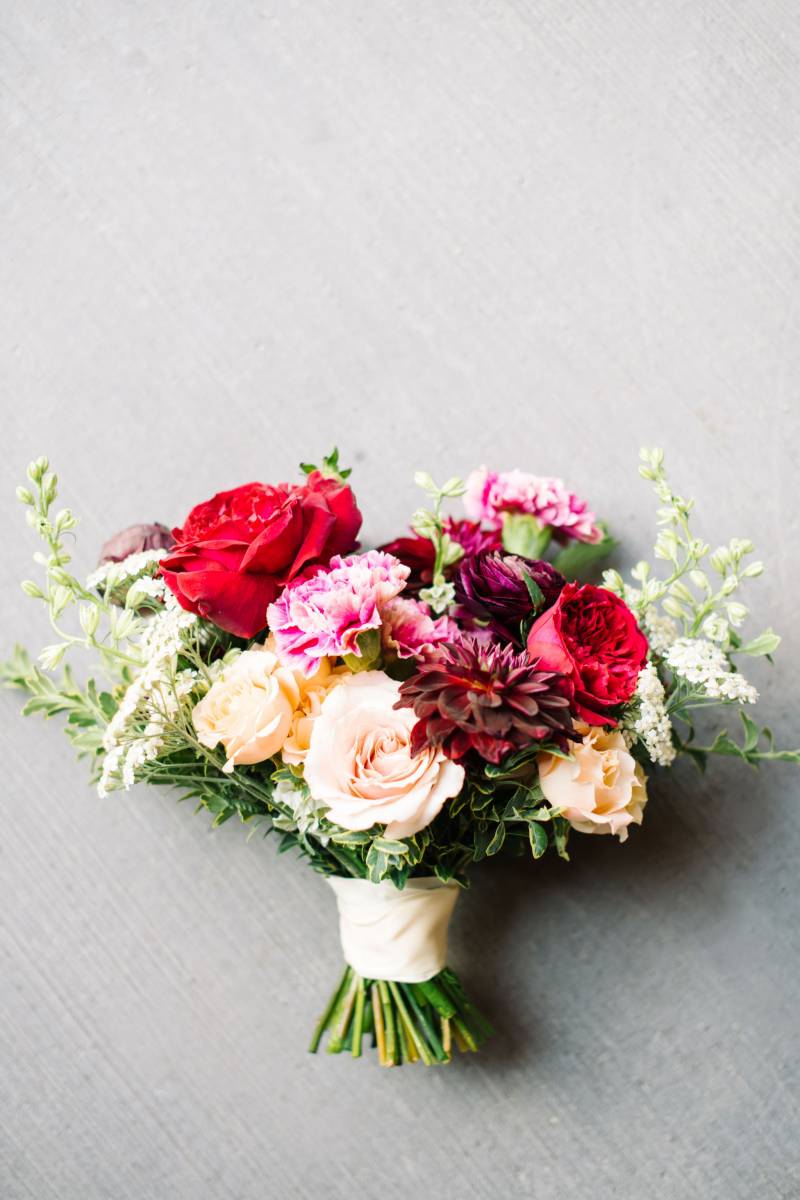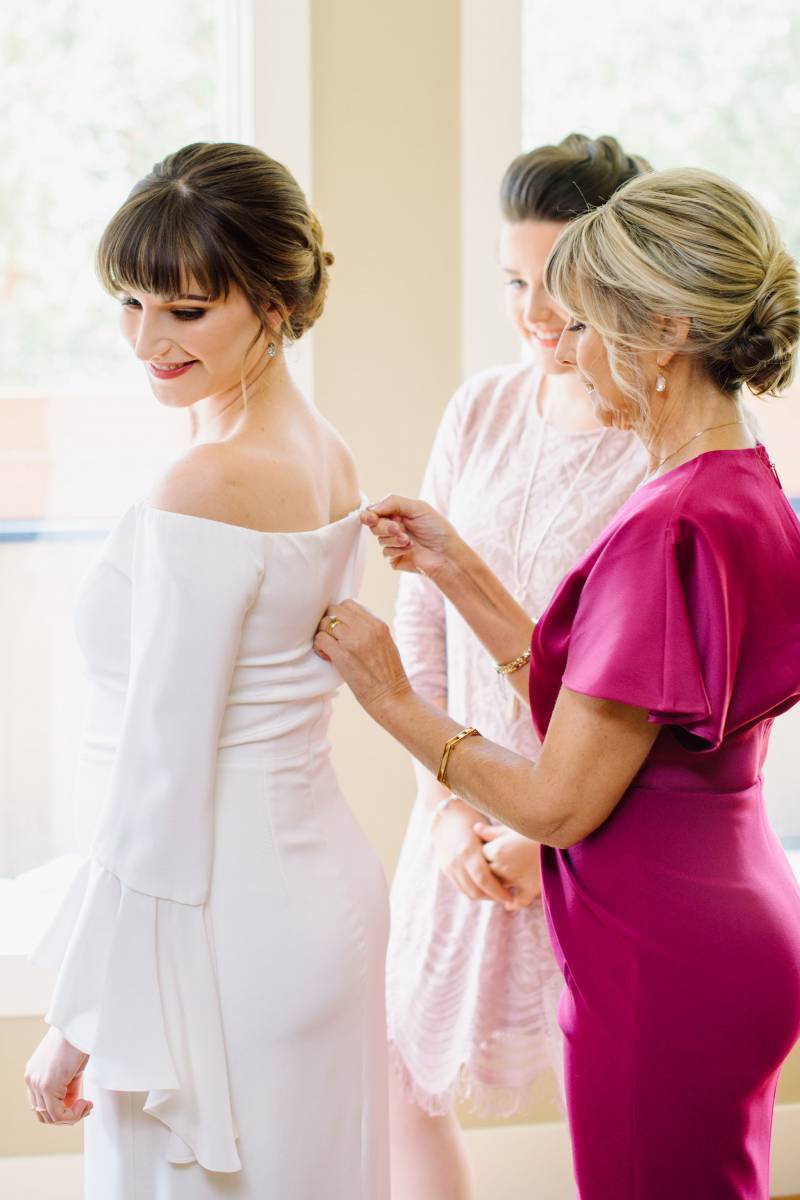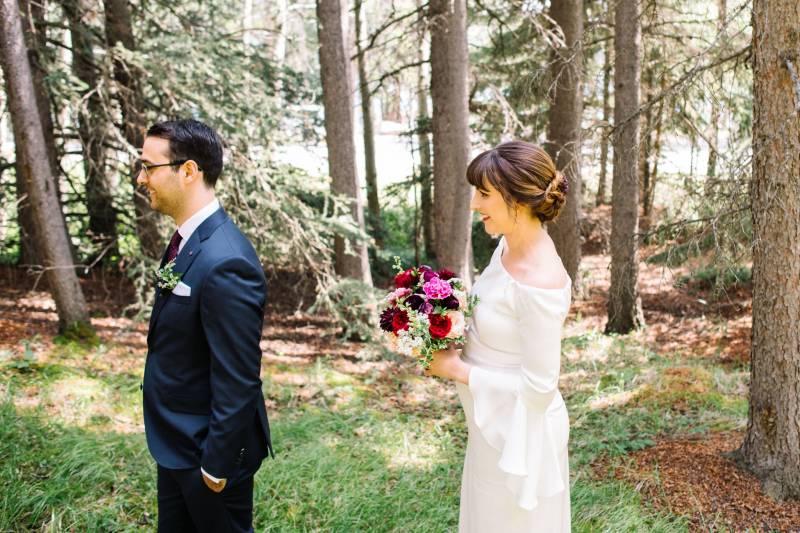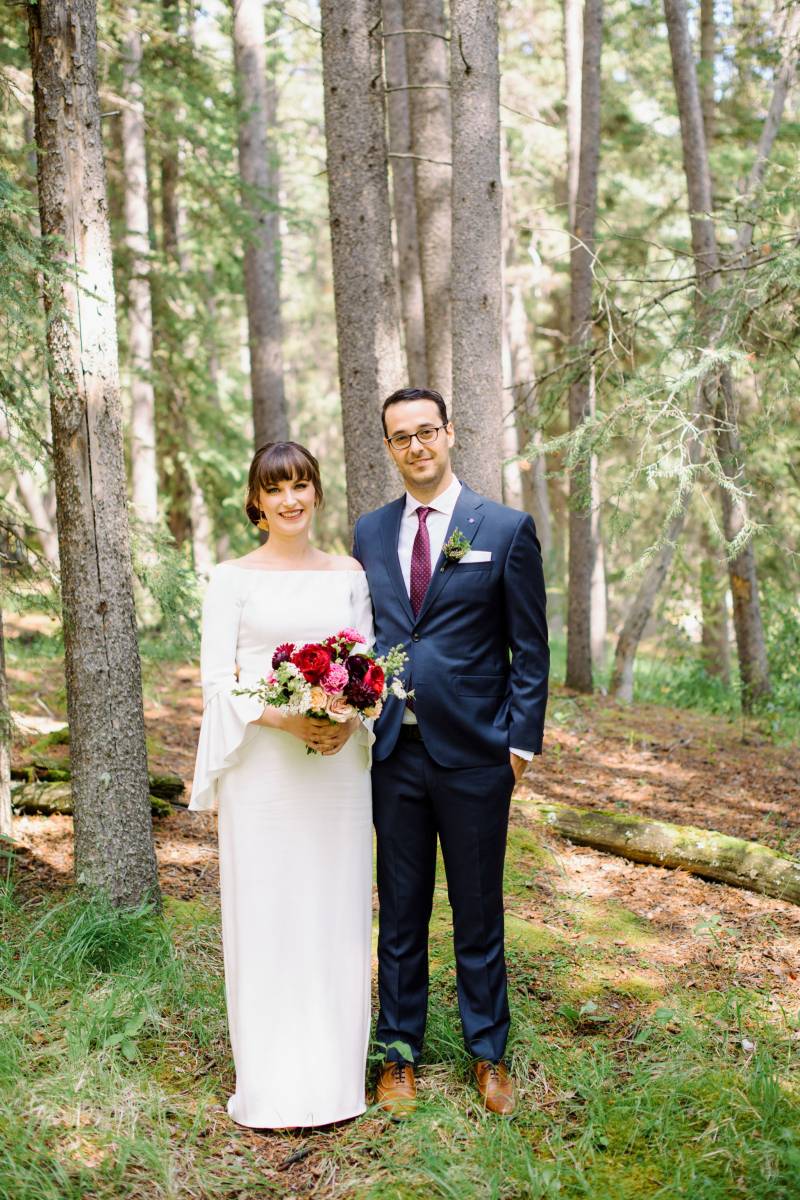 From the Planner:
Jennifer and Mike first started talking on a dating app, after Jennifer had been single for a year and was recovering from a motor vehicle accident. Thanks to Jennifer's best friend who convinced her to "extend her radius" on the dating app to include a certain neighborhood in Toronto, Jennifer met Mike. The first time the couple encountered each other in person was over coffee near Trinity Bellwoods Park. One of Jennifer's first thoughts when she first met Mike was that he was so handsome and that his online profile picture did not do him justice! It was the best date Jennifer had ever had and their connection felt natural from the start. Luckily for Jennifer, Mike felt the same as he told his brother the next day that Jennifer was the woman he was going to marry.
On April 28, 2019, after having brunch at one of their favourite downtown spots, Mike suggested grabbing another coffee at the same coffee shop where they met for their first date, near Trinity Bellwoods Park. Unbeknownst to Jennifer, who was a little nostalgic about their first date roaming around the park headed towards the bench where they first sat together, that would be the moment Mike got down on one knee and proposed. After some shock and, of course, excitement Jennifer said yes. Mike sealed their new engagement with a beautiful diamond ring Mike had singled out for Jennifer with the help of her mom.
The couple originally wanted to get married in Toronto, but since they did not want to wait too long and preferred it be conveniently located for both of their families, they decided to have an intimate wedding in the Rocky Mountains on July 7th, 2019. Even though Banff was the perfect romantic setting, when Jennifer and Mike arrived, the weather was foggy, cloudy, rainy, just miserable... Their original ceremony location at Two Jack Lake may not have become a reality for these two lovebirds, however their backup location at the Banff Springs Hotel Conservatory was absolutely magical and even more beautiful than they could have ever imagined. On their wedding day, the weather was beautiful, and the couple would still have the Rocky Mountains as the backdrop to their intimate ceremony in the Conservatory.

Although Jennifer and Mike thoroughly enjoyed every minute of their special day, Jennifer's favourite part was seeing Mike for the very first time. During their First Look photographs, Mike was not the only one she saw for the first time, a bear and a few excited tourists nearly photobombed their photo session! Thanks to Corrina Walker, their photographer, the couple felt comfortable and relaxed. Some of their other favourite moments include: the "traffic jam" of wild horses the couple encountered while on their way to the ceremony, the cellist and violinist who played "Me Voy a Morir de Tanto Amor" and "Married life" from the movie Up! during the ceremony, as well as the ceremony's picturesque mountain background they had been hoping for. Along with the intimate setting and coziness, Jennifer and Mike share fond memories of their incredible dinner and cake - and their families also still rave about them!
As for the details of their magical day, some of the highlights for Jennifer and Mike were the flower arrangements - particularly the flower arch -, Jennifer's beautiful dress and accessories which included her grandmother's 1960 vintage earrings, and last but not least, their beautiful table setting designed by Lisa from Mountain Bride in the Angus room at the Banff Springs Hotel. Jennifer and Mike were delighted by the attention to detail and how perfect the room transformation turned out. The couple could not believe how Lisa was able to transform the room to an intimate, romantic and dreamy space so well. The jewel tone florals and soft fabrics complemented the antique feel of the room fabulously. Every detail was so well thought through and the entire design felt unique, rich and sophisticated; it captured the identity and taste of the couple flawlessly. In less than three months, Mountain Bride exceeded all of Jennifer and Mike's expectations for the intimate and romantic dream wedding the couple had always envisioned.
Jennifer and Mike cannot rave enough about having an intimate wedding. They received so many well wishes from their family and friends who were genuinely happy for the couple even though they did not attend their wedding. According to Jennifer, do not worry about offending anyone or planning a wedding to please families, having an intimate wedding lets you focus on your vision and allows you to create your perfect wedding. Lastly, "hire a wedding planner! We could not have pulled off our dream wedding alone. Lisa was the key to making our wedding perfect and hiring her was the best decision we made. I can't say enough about the expertise Lisa provided and how professional she was. Wedding planners are worth their weight in gold and help make your wedding day stress-free!" says Jennifer.