With the holiday season just around the corner, brides-to-be eagerly anticipate Black Friday deals to help craft their perfect day! This annual shopping extravaganza isn't limited to tech gadgets and home appliances. It's a goldmine of fantastic Black Friday deals for brides striving to bring their dream weddings to life without straining their budget. In this blog, we'll delve into the top Black Friday deals tailored for brides, guiding you through the abundance of discounts.
Bridal Attire
Embrace the comfort and style of Black Friday deals as brides explore exceptional discounts on luxurious loungewear and robes. Keep a lookout for renowned designers and shops that are participating in the Black Friday frenzy. In either case, Black Friday offers an opportunity for significant discounts on attire that will enhance your wedding experience.
Courtesy of Making the Bride's Day Extra Special
The Knot Shop: Elevate your pre-wedding moments with these beautifully crafted robes! Enjoy a fabulous deal where you can enjoy up to 30% off on personalized bridal robes! Don't miss this exclusive opportunity to add a personalized flair to your bridal party preparations while enjoying significant savings. Hurry, as this special offer won't last forever!
Etsy: Transform your pre-wedding preparations into a memorable and stylish affair with these personalized pajamas, available at an unbeatable price for a limited time. Don't miss out on this opportunity to add a touch of luxury to your bridal party experience!
Wedding Decor and Favours
Transform your venue into a magical wonderland with discounted wedding decor and supplies. Explore popular wedding supply stores and online marketplaces to discover unparalleled discounts on decor items. Capture the essence of your celebration with both enchanting decorations and thoughtful wedding favours, all within the budget-friendly realm of Black Friday deals.
Courtesy of Neon Love and Modern Vibes
The Knot Shop: Explore this collection of wedding favours and decor for serious savings! From 11/19 through 11/27, enjoy discounts of up to 80% on personalized gifts and favors that will add a special touch to your celebration. Don't miss this golden opportunity to elevate your wedding without straining your budget.
The Wedding Star: Explore a multitude of wedding favour options available at Wedding Star, where savings of up to 50% off await you this Black Friday. Don't miss out on this fantastic opportunity to discover the perfect favours for your special day at irresistible prices.
Birthdate Co: Thinking about gifting your wedding party something inspired by their birth dates or zodiac signs? Birthdate Co has you covered! From 11/20 to 11/28, enjoy up to 50% off your order site-wide!
Etsy: From 11/20 through 11/29, enjoy up to 60% off on all of Etsy's stunning offerings. Deals on handmade wedding favours and decor do not get any better than this!
Wedding Jewelry and Accessories
Enhance your bridal look with showstopping jewelry and accessories without breaking the bank. Black Friday brings forth enticing deals on earrings, necklaces, bracelets, and hair accessories. Whether you prefer classic, vintage, or modern pieces, you're likely to find the perfect accessory to complement your bridal ensemble at a fraction of the regular cost.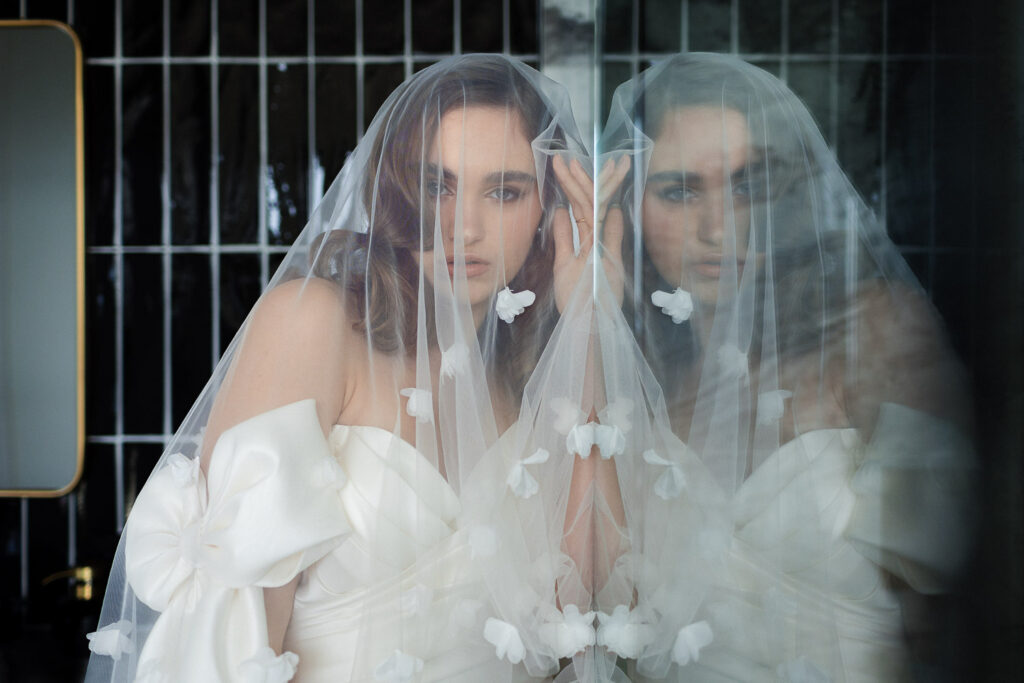 Courtesy of The Backyard Collaboration
Maison Birks: Elevate your bridal elegance with stunning jewelry pieces this Black Friday. From intricately designed engagement rings to delicate necklaces and bracelets, take advantage of up to 50% off on select pieces that will not only enhance your wedding day look but become cherished keepsakes for years to come.
Bella Belle Shoes: Get ready for the highly anticipated Bella Belle Black Friday bridal shoe event! You won't want to miss it. This is our most significant and exclusive wedding shoes Black Friday sale of the entire year, taking place on Friday, 11/24 only! Check out the sneak peek of some bestselling styles that will be up to 40% off for Black Friday! Don't miss out on this exclusive one day only sale to save BIG on these popular styles.
Mejuri: Prepare to sparkle and shine as Mejuri offers 20% off everything with a minimum purchase of $150. Whether you're searching for the perfect wedding day accessories or looking to enhance your everyday elegance, Mejuri's Black Friday sale is your chance to acquire timeless pieces at an irresistible price. Don't miss out on this exclusive offer!