As one of the largest event rental companies in Calgary, we have the pleasure of providing pieces for many weddings each season. It's always so exciting to see the trends that come and go (and then come back again, not unlike fashion) in our local wedding industry. The same item that may not be used a lot one year will be impossible to keep on our shelves the next. We love anticipating these trends and ensuring we're prepared for when they ripple through our community, beginning with magazine editorials and styled shoots and then gracing the various incredible wedding venues throughout our city. Below, we've rounded up a collection of our top rental items of 2019, as well as our predictions for 2020 trends.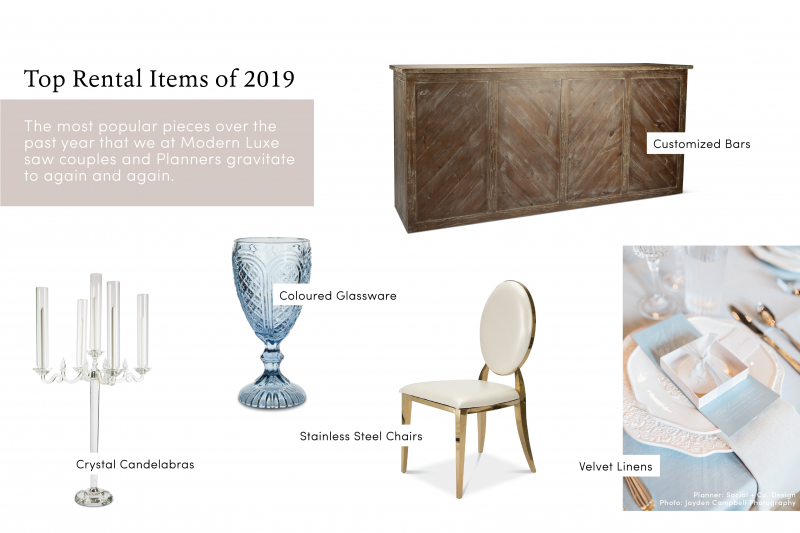 2019 saw couples and Planners playing with different colours, textures and materials. Coloured goblets sat atop many boho-themed tables or complemented overall classic designs. They often added a fun, unexpected pop of colour to tie together colour pallets seamlessly. They were by far one of our most popular items, and we expect to see this continue into 2020.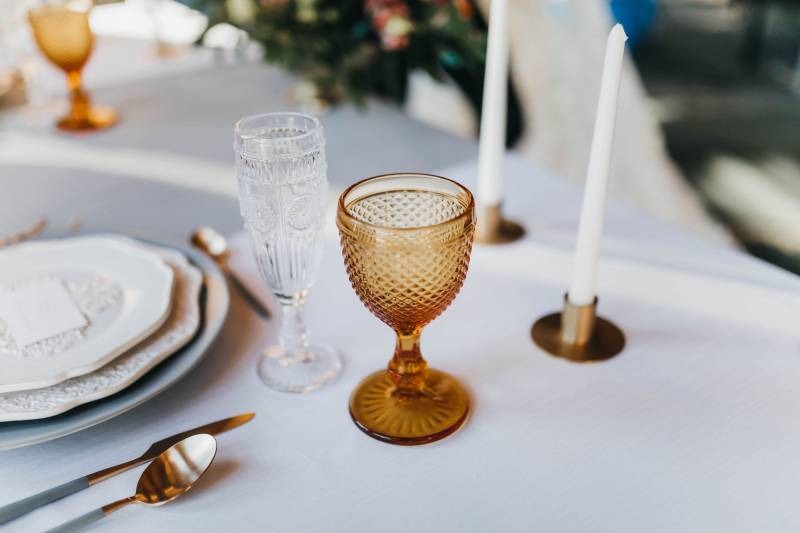 Luxe textures and finishes were used frequently. We saw this in items such as our Crystal Candelabras and Stainless Steel Chairs - items which added just that little bit of something extra and an element of "wow."
We loved seeing customized bars, which offered couples a great way to personalize their decor and incorporate their own style. Removable decals easily elevate rental items to coordinate with the overall look and feel of your wedding and add a cohesive quality.
We adored the velvet linen trend this past year. It added such a soft, romantic feel to tablescapes and provided a lovely variation of texture. Whether napkins or tablecloths, the addition of velvet incorporated a level of whimsical playfulness or often a classic timelessness that resonated with so many and made it extremely popular - something we expect to remain true in the coming year.
In 2020, we are so excited to see more sailcloth tents, more eye-catching lounge areas, the incorporation of modern and mid-century pieces and the take-off of artificial trees as decor. In early 2020 we are welcoming several new lines of inventory that will help our planners and brides incorporate these upcoming design trends. For the tabletop, we are expecting to see a greater use of the two-toned flatware options and classic, simplistic dishware and glassware.
Thank you so much for having us! It's been so fun to look back through this past year and reminisce on all of the beautiful weddings we had the privilege to be part of. We are so looking forward to this next year and are excited to see these trends come to fruition.