When you really dream about it, winter weddings are filled with so many beautiful colours. Everything pops off the reflection of the white snow and the white skies. Today's inspiration post from Calgary wedding photographer Kaycee Ann Photography and Calgary wedding planner Kate Colman Weddings + Events features dazzling cobalt blue and elegant mountain chic decor details that create a statement style brides planning a Rocky Mountain wedding will adore.
The bride is styled with hints of Old Hollywood glamour – her elegant hair, with a jewel-encrusted clip moves in body waves, and the subtly of her hair highlights her dramatic makeup. Styled in an incredibly elegant lace overlay gown, with a billowing skirt, she has a stunning silhouette.
The tablescape focuses on feature floral arrangements and pops of cobalt blue linens, highlighted with gold decor accents that give it added luster. Hear more from the Creative Team after the jump!
From the Creative Team:
The inspiration was to bring together a design that featured classic blue tones both in nature and in our styling. Along the banks of the stunning Ghost River where the blue water carves through the hillsides, Kate designed a styled shoot to stir inspiration for winter weddings.
Alberta Photographer, Kaycee Ann captured all the riverside magic and the inspired beauty in the romantic reception space at the unique and intimate wedding venue, The Crossing at Ghost River.
We warmed up our colour palette by the crackling fire and incorporated copper tones on the table setting, cake and accessories. Embrace Bridal and Suit-ed Menswear had the perfect apparel and accessories for our Bride and Groom (a real engaged couple) and Brilliant Blooms' talented artistry brought our vision to life with beautiful florals. Our design concept was complemented by the blue elements in the stationery from Pink Umbrella Invites and the gorgeous loveseat from Rare Vintage Rentals.
      – Wedding Planner & Stylist, Kate – Kate Colman Weddings + Events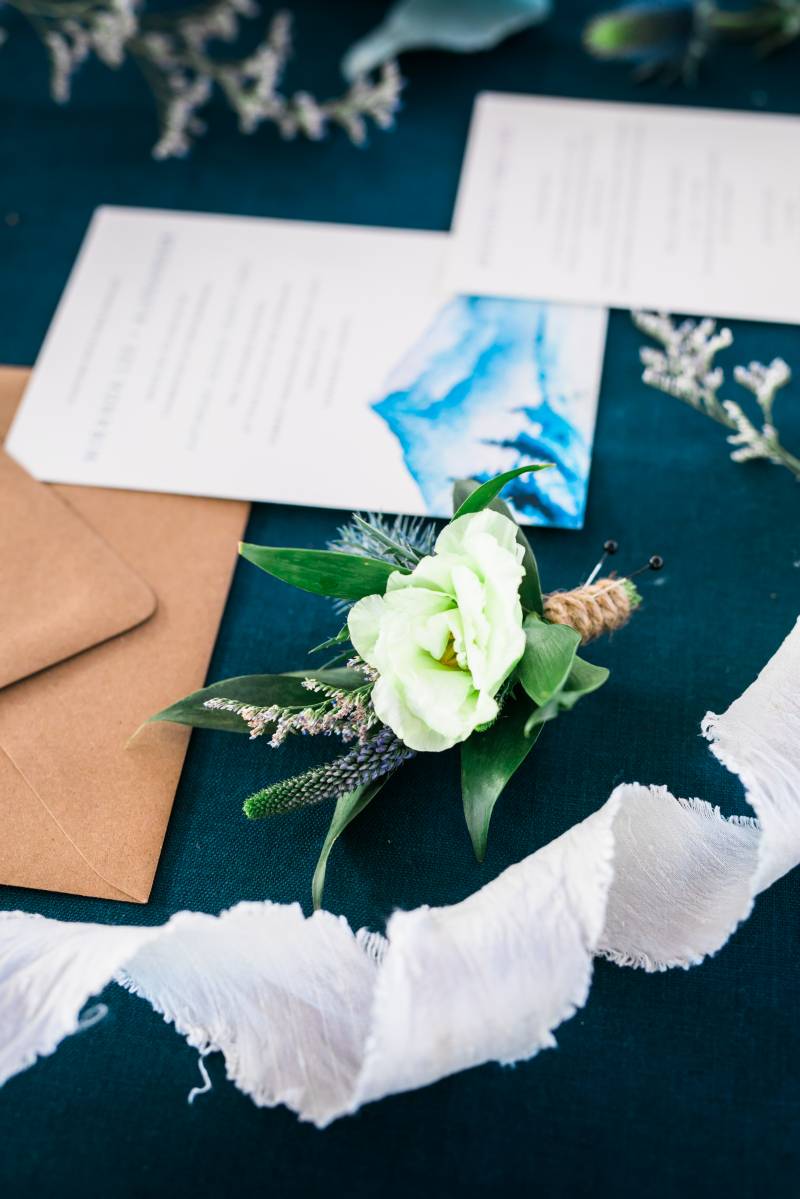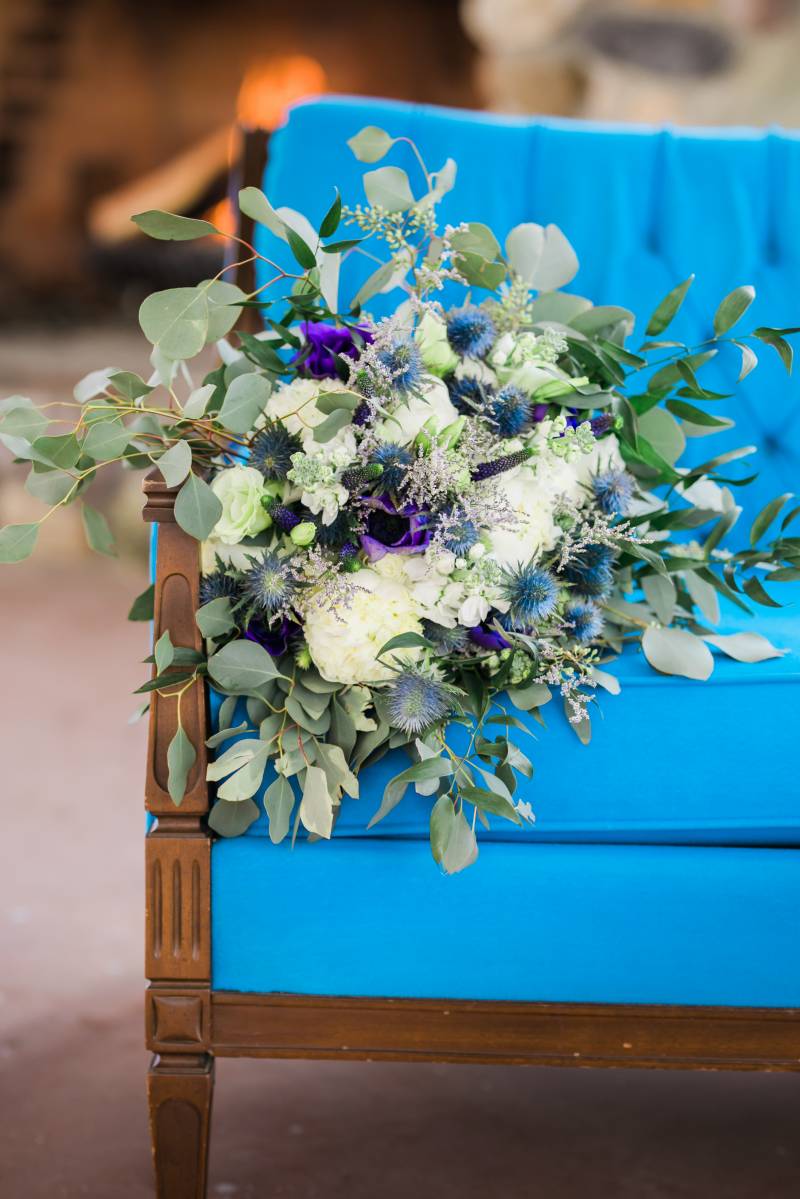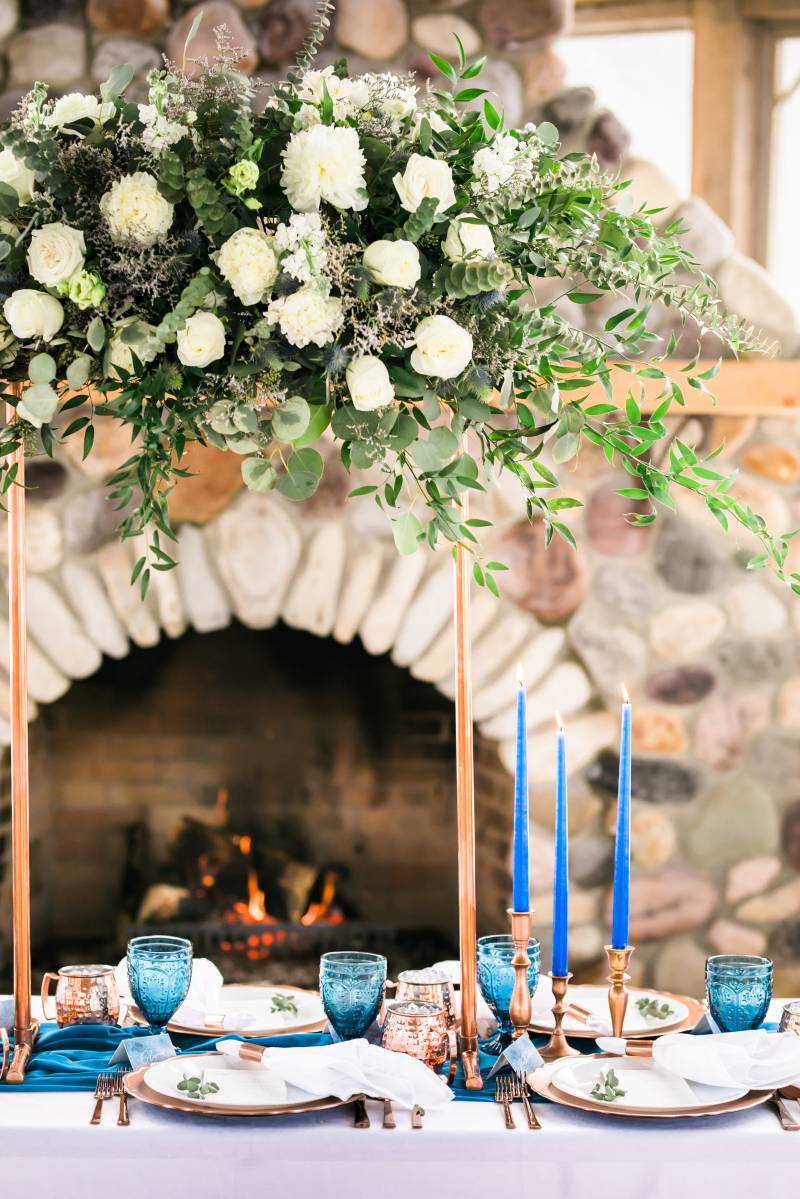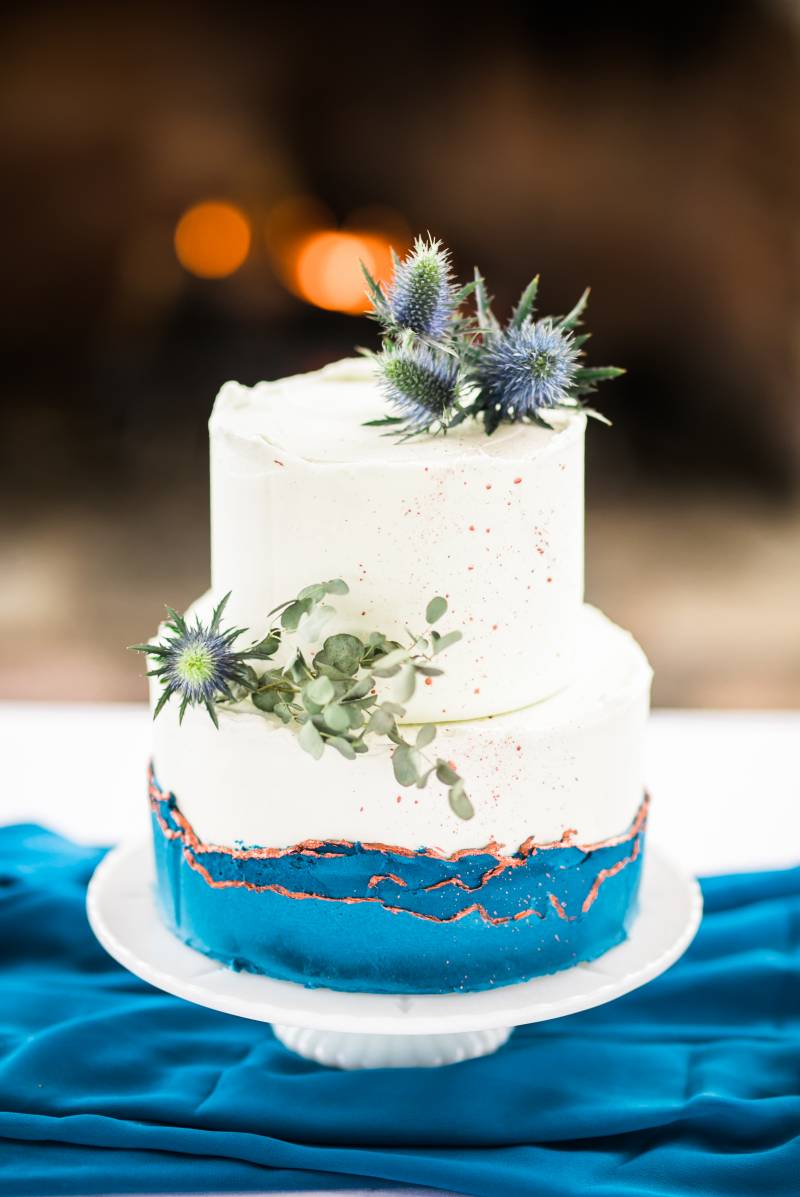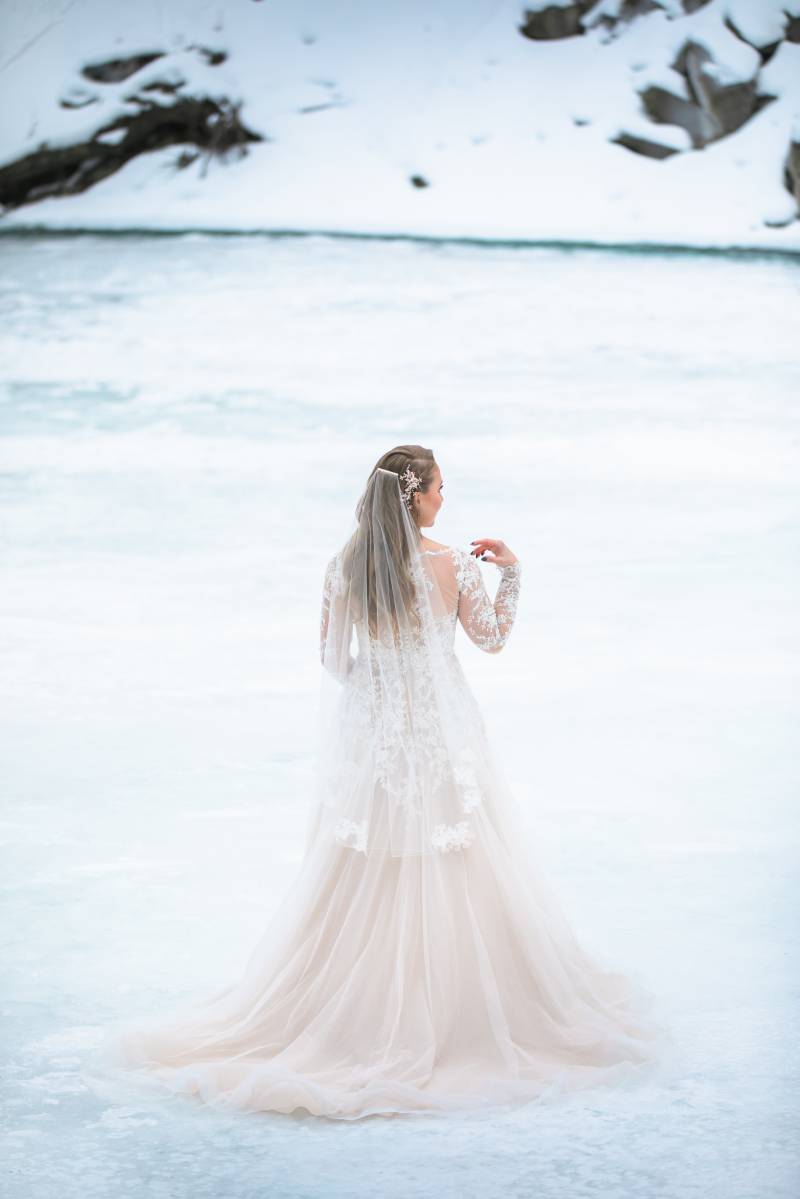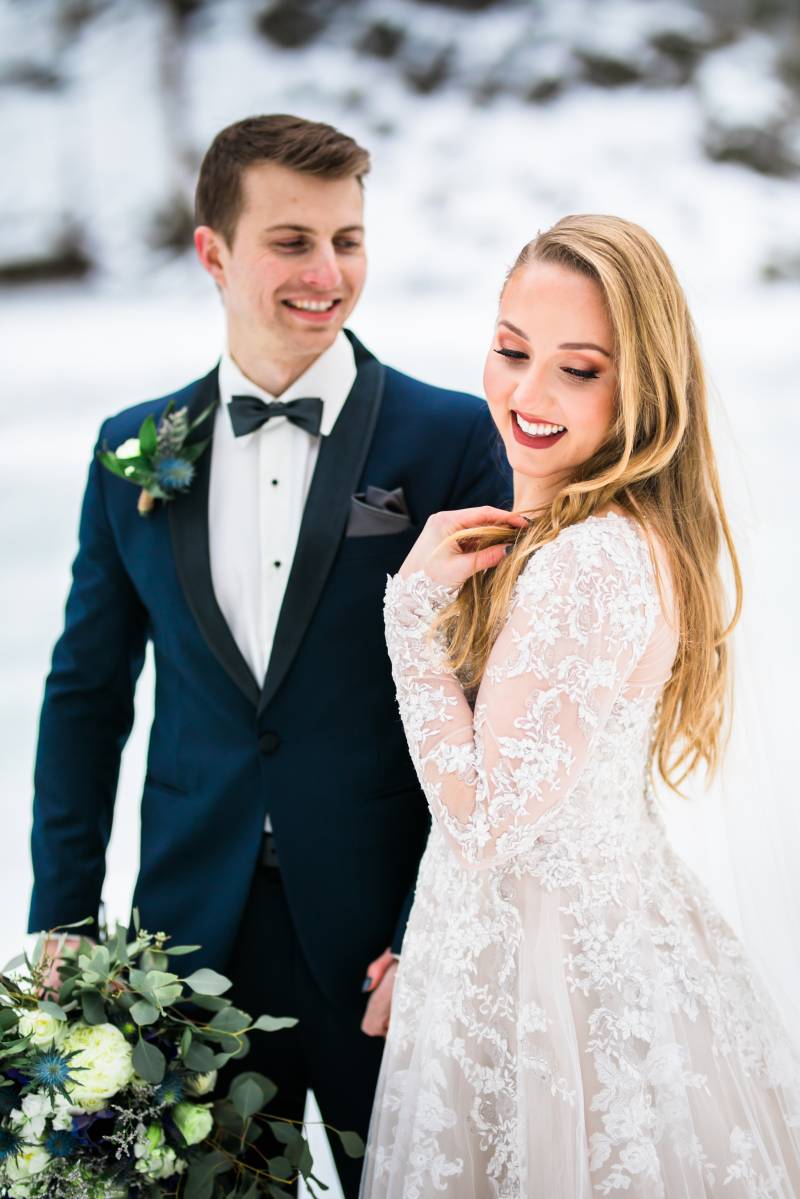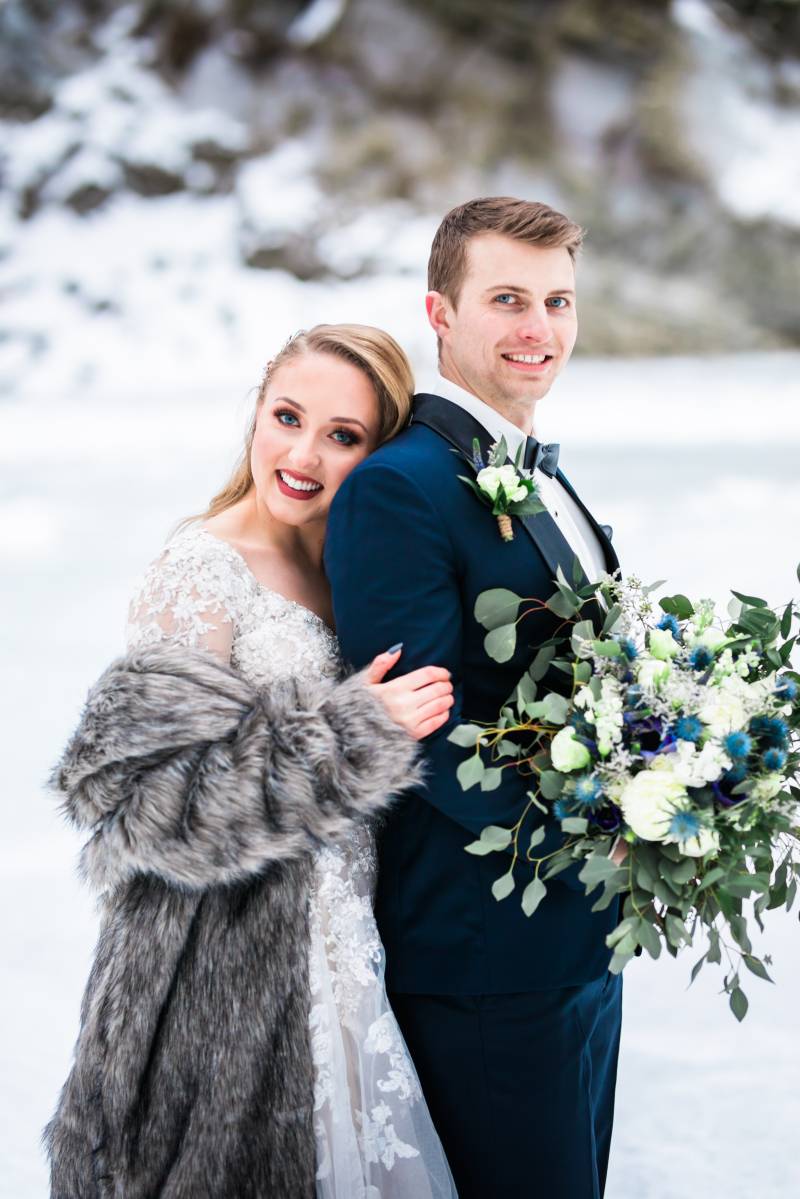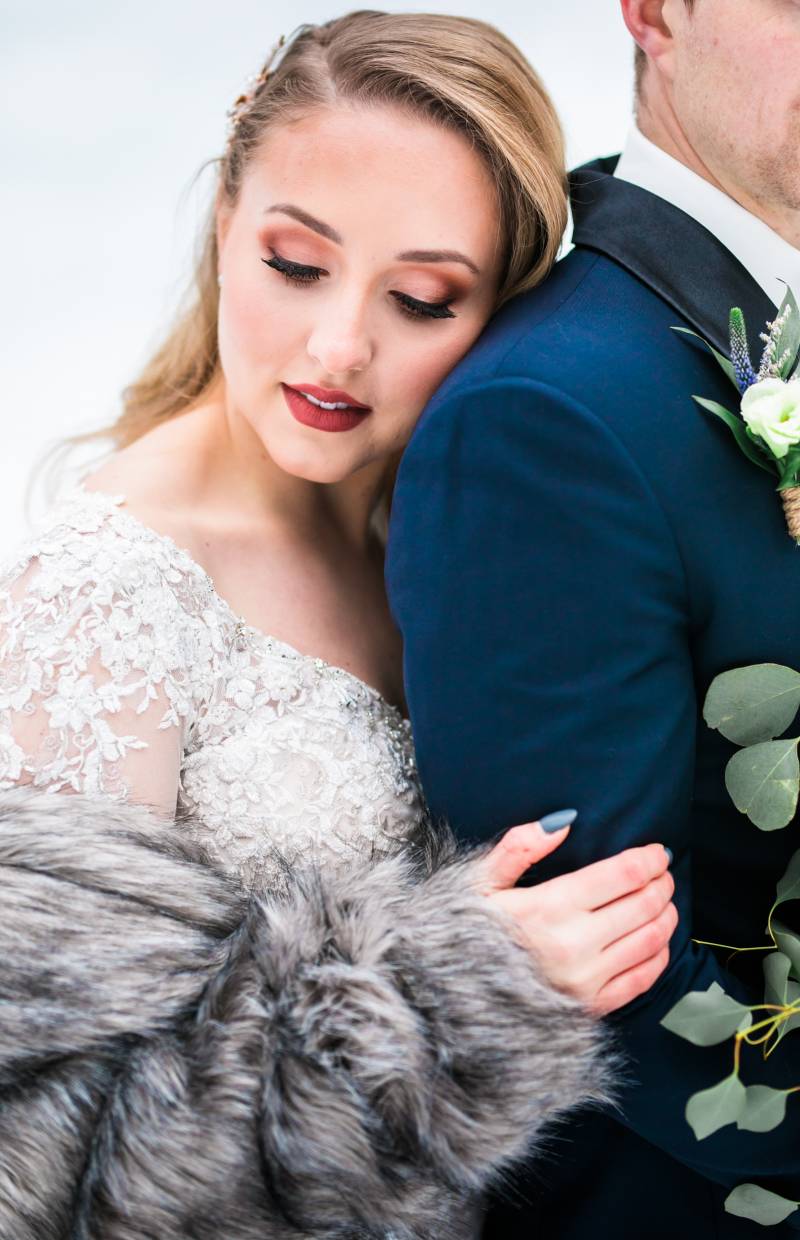 Sources
Kaycee Ann Photography/The Crossing at Ghost River/Kate Colman Weddings + Events/Kate Colman Weddings + Events/Rare Vintage Rentals/Cake Bake Shoppe/Pink Umbrella Designs/Brilliant Blooms/Embrace Bridal/Suit-ed Menswear/Makeup by Jamie-Lee/Hair Design by Jess/Embrace Bridal/B&B Clothing Boutique