Hello, dusty blue! As a rather subdued hue, the Creative Team of Okanagan wedding decor Pink Pump Events, Okanagan wedding photographer Amanda Rentiers and Okanagan wedding photographer Paulina Stevens captured a shoot that is full of breathtaking spirit! See more blue wedding inspiration
Highlights that our hearts are loving include that stunning dusty blue water colour wedding stationery, the gorgeous way the fabric of the bridesmaids dresses flows in the images, the incredible sleeves on the bride's gown and the full white floral centre pieces on the flowing dusty blue linen! See more watercolour wedding inspiration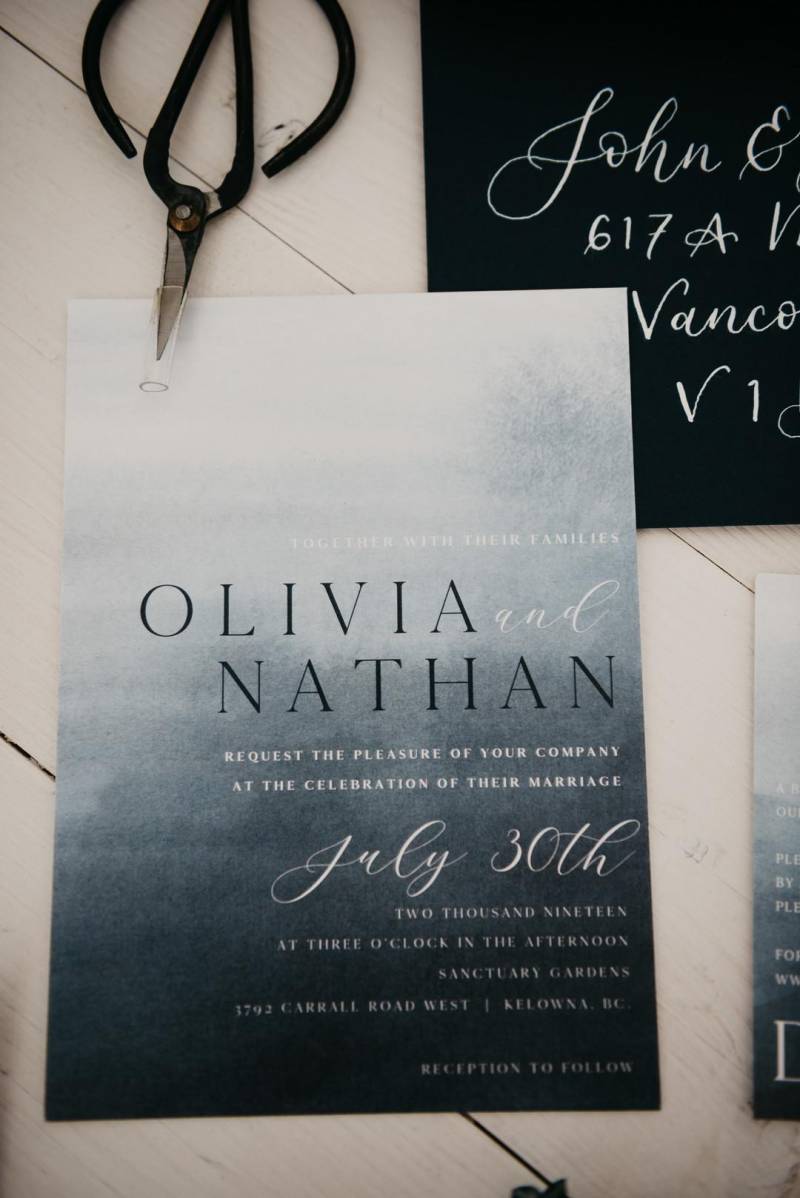 From the Creative Team:
Something old, something new, something borrowed and a bunch of blue! This gorgeously styled wedding was inspired by the beautiful landscape of the Okanagan Valley. Bringing in the dusty blues of Okanagan lake, the surrounding mountains and summer sky, this wedding setup was a sight to behold at Sanctuary Gardens in West Kelowna.
The romantic ceremony and reception decor, complete floral arrangements, was courtesy of Pink Pumpkin Events along with some beautiful rentals by All Occasions Party and Event Rentals. The paper goods and invitation suite were designed and delicately hand painted by Jaye Designs. The signage carefully placed around the shoot was meticulously created by Ink and Dust Okanagan. Our models Silvia, Kelley and Shelby were beautified by Hair by Hewat and Tan On Studios as well as adorned with pieces by One Love Adornments and Brides and Belts. The convertible bride and bridesmaid dresses, that can be worn multiple ways, are provided by Henkaa and styled by Amaros Media. The beautiful white, gold and blue ombre cake was decorated by Sugar Mama Treats and adorned with loose florals. Elegant soothing music played throughout the shoot by the band Silverlines. The photographers Amanda and Paulina and videographer Amaros Media did a great job at capturing the golden hour glow of this stunning Okanagan shoot.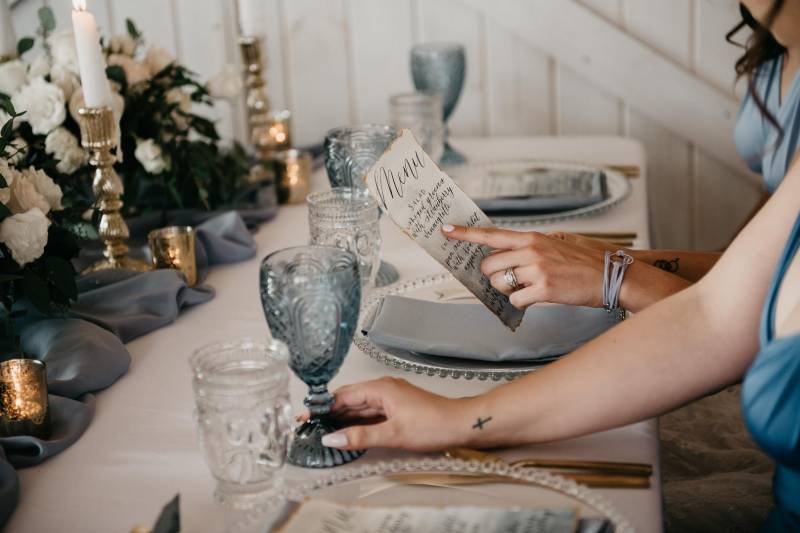 Sources
Amanda Rentiers Photography/Amaros Media/Sanctuary Gardens/Pink Pumpkin Events/Sugar Mama Treats/Sugar Mama Treats/Jaye Designs/Pink Pumpkin Events/Henkaa/Henkaa/Love.Sweat.And.Shears/One Love Adornments/Paulina Stevens/Tan On Studios/All Occasions Event Rentals/Ink And Dust/Brides and Belts