Rustic, bohemian decor, bridesmaids in burgundy, and a couple so in love, you can feel it through their photos, we are loving Jared & Dominique's Island Lake Lodge Wedding, photographed by Paisley Photography and planned and designed by Mountain Bride. Dominique wore a gorgeous V-neck wedding gown with lace detailing and a classic silhouette, and her long hair flowed down her back in half-updo, topped with a flower crown. Married in front of a geometric arch with the Rocky Mountains as the backdrop, it was the perfect wedding ceremony! Hear more from the Creative Team and meet the entire Creative Team after the jump!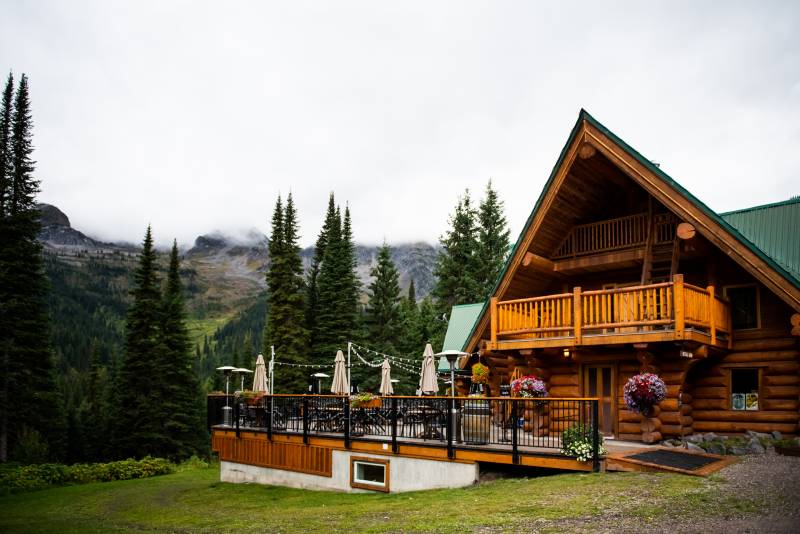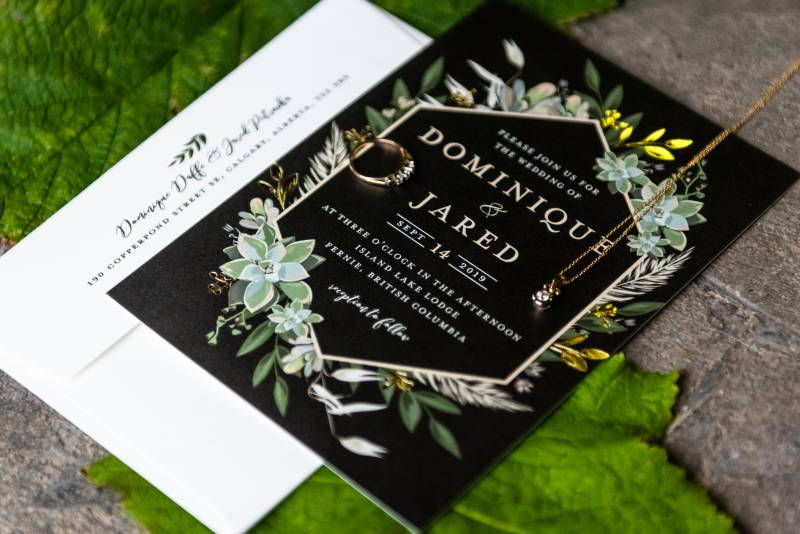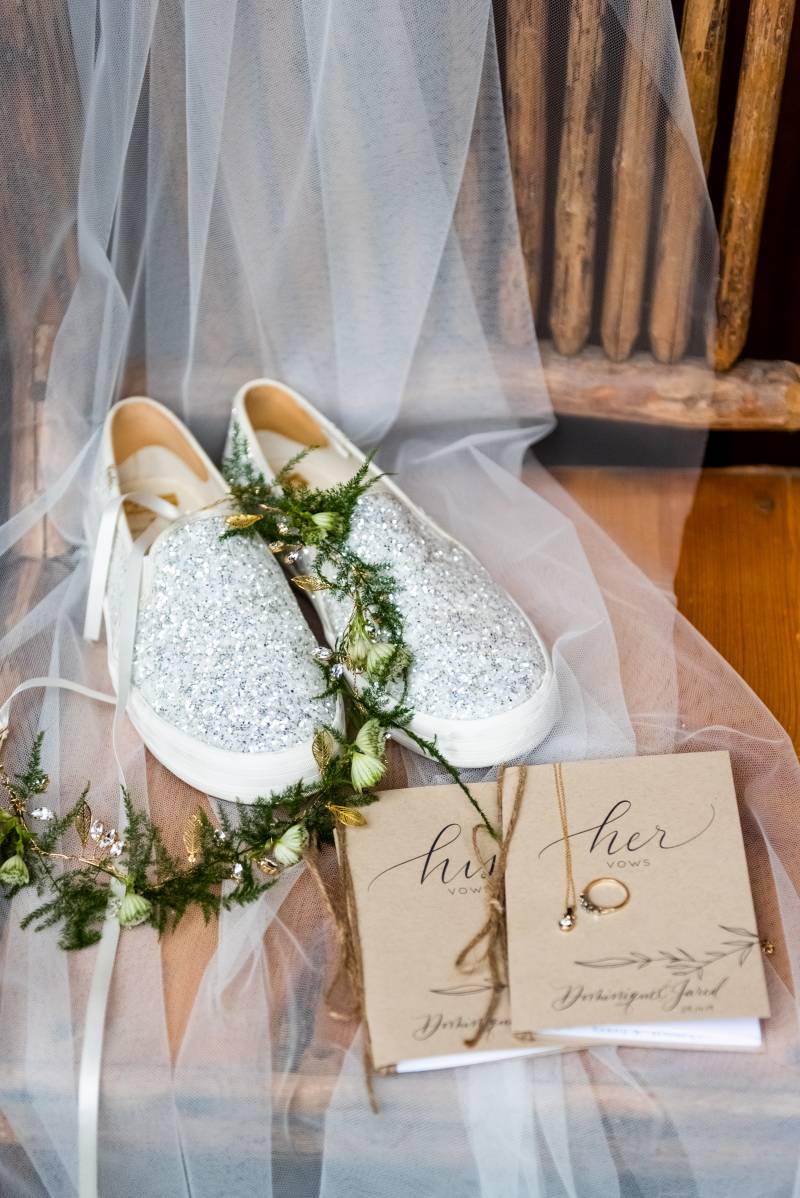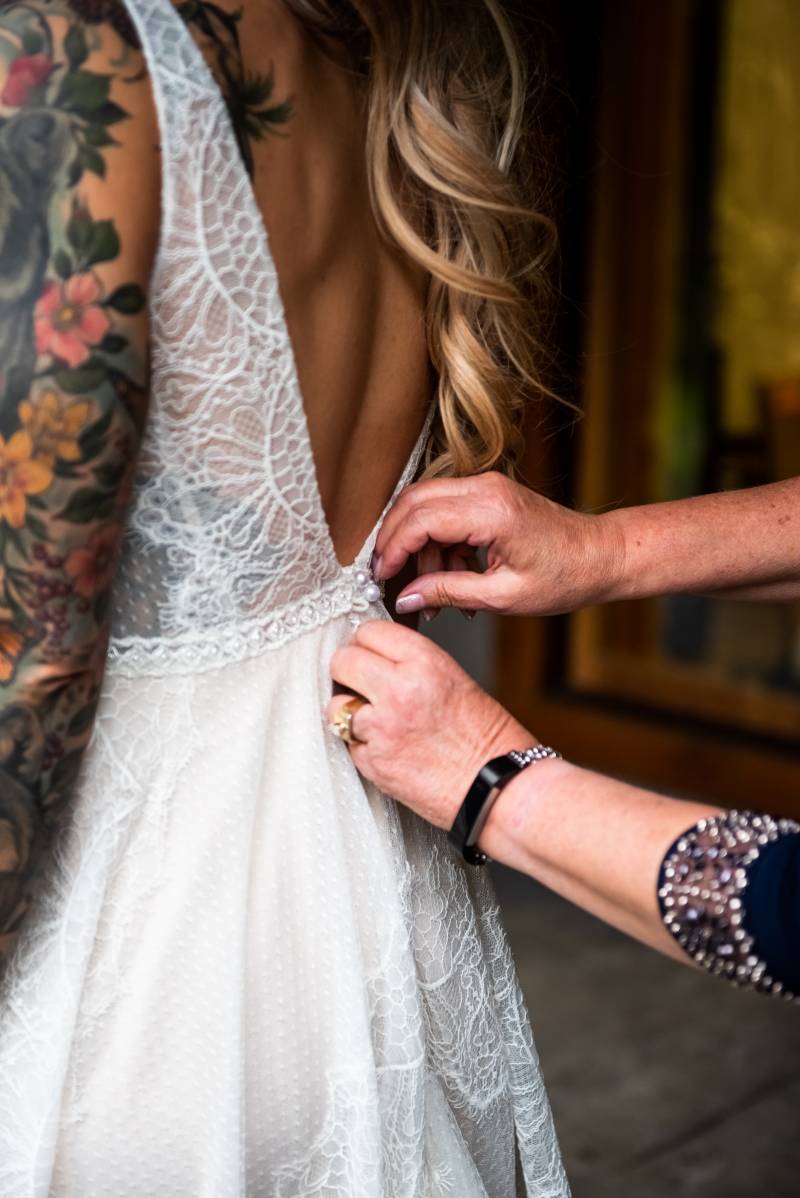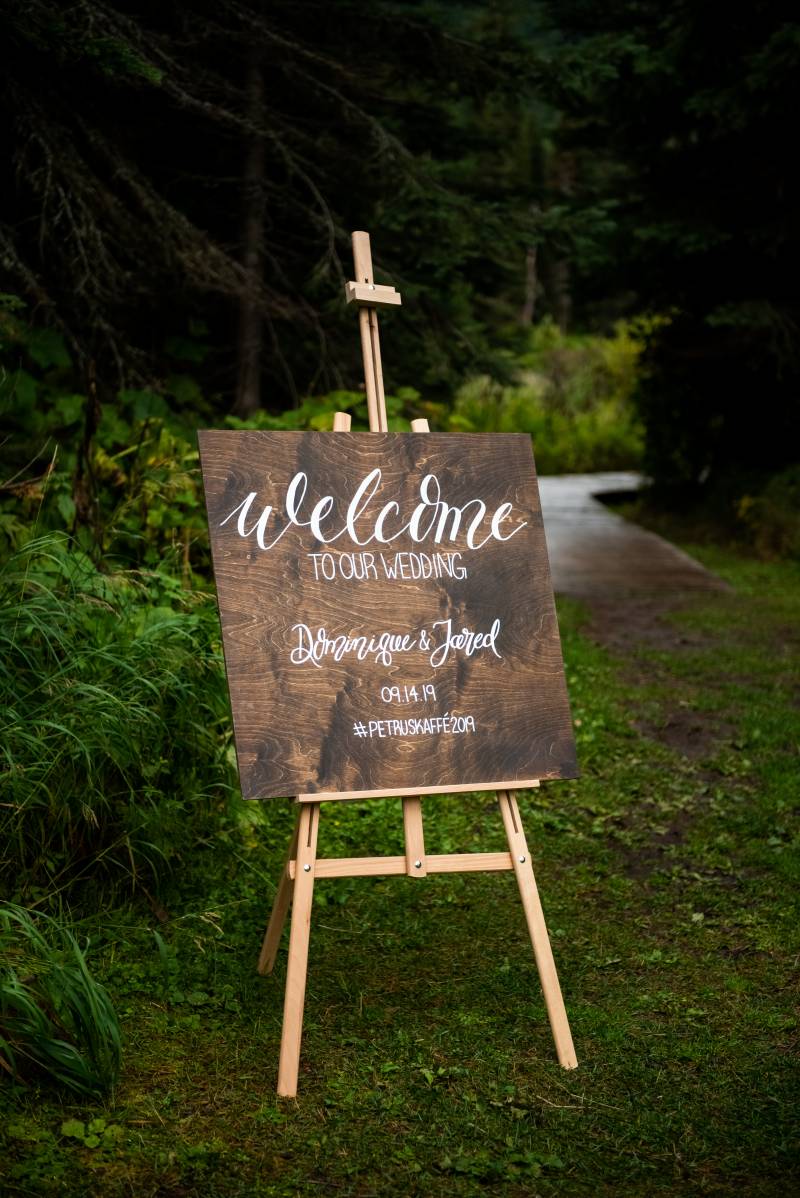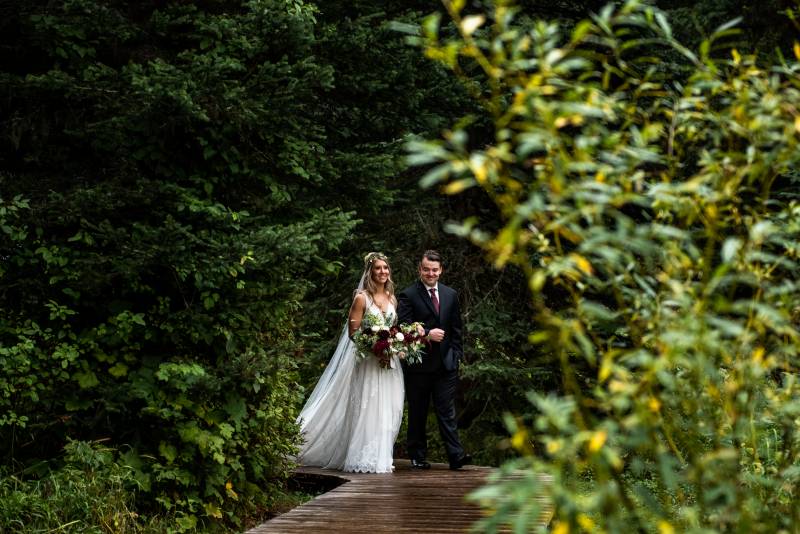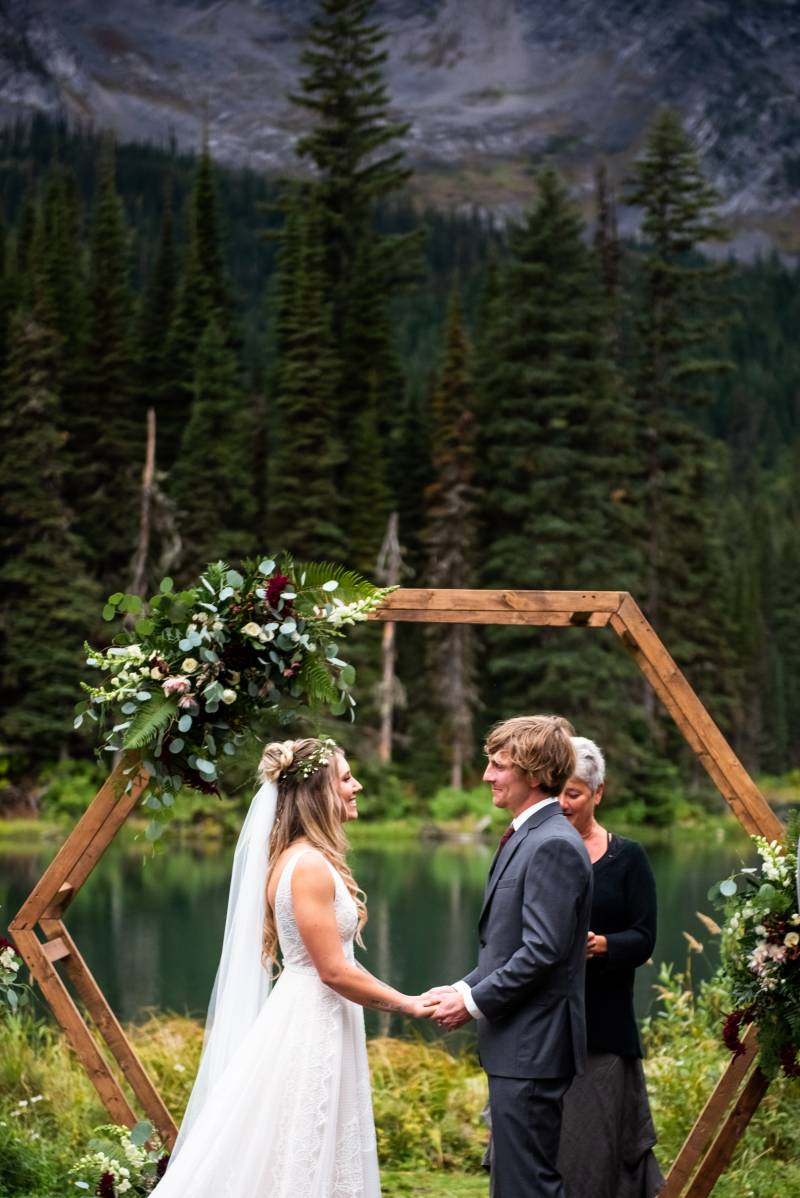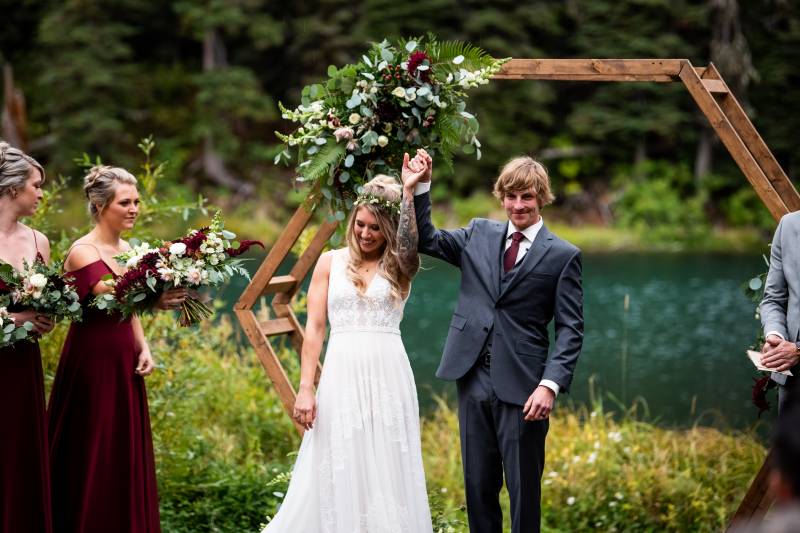 From the bride:
Jared and I have both agreed that our wedding day was more than we ever imagined. It was an unreal experience filled with so many amazing memories and we can't stop smiling about it.
Jared and I met racing motocross in 2012. For the past 7 years we have raced across the country together and travelled to California to ride. We have basically been one of those "eat, sleep, breathe motocross" couples. Jared asked me to marry him on our 6 year anniversary as we got home from our final round of Nationals in August 2018. It's no surprise that we knew we wanted to get married outside which meant dodging the sometimes long Canadian winters we get that can start in September – like this year – and sometimes go until May. Surprise, surprise, we also knew we still wanted to race dirt bikes so April – August dates just wouldn't work. After 7 years of dating I wasn't waiting until 2020 to marry Jared so we picked September 2019 which meant getting the plans started ASAP. And other than a few hair and dress pins on my Pinterest account I really had no clue where to start. I dragged Jared to the September Bridal Expo in Calgary only a month after our engagement where we discovered some beautiful venues. But Jared kept going back to this one booth – Island Lake Lodge in Fernie, BC. I thought it looked nice but it wasn't my first choice. Jared really wanted to check it out so we booked a weekend stay at the lodge later that month and we absolutely fell in love. Neither one of us knew this place existed, even after passing the sign on the highway a thousand times. The photos and descriptions people gave did not do Island Lake Lodge justice. It really has to be experienced for yourself. The beauty of the scenery surrounding the lodge is breathtaking, the lodges and rooms are cozy and beautiful, the food is incredible, the staff are friendly and go above and beyond, the mountain bike and hiking trails are a blast, everything about Island Lake Lodge is perfect, and was perfect, for our special day.
The thought of planning a wedding and all of the small details that are involved stressed me right out, and I knew right away that I needed a planner. I stumbled across Mountain Bride wedding planning on google and looked through Lisa's portfolio and knew that her style fit what I envisioned for our wedding. I wanted a lot of flowers, geo shapes, hanging lights, a mix between boho and rustic and Lisa loved all of my ideas. From finding vendors for us that were in our budget and fit with our theme, to planning every detail big and small, to putting it all together and delivering literally exactly what I imagined in my mind, Lisa was incredible. Hiring Mountain Bride was the best decision we made for our wedding.
The weather on September 14th was not what we had hoped for, but it wasn't totally against us either. It rained for most of the day, stopping in time for our ceremony and starting again at the very end. We were very firm, I say we, but it was mostly me as Jared was happy either way, on getting married outside even if it was lightly raining and it was kind of magical how it stopped just so that dream could come true. We both agreed the Ceremony went by so fast it was very quickly a blur and the rest of the day was so surreal. Our photographers, Chantal and Jason from Paisley Photography had scouted the property for places to shoot photos the day before and although we weren't able to do some of what was planned because of the rain they still managed to find spots to get the photos I really wanted. I'm sure walking around in the rain with camera equipment is not ideal and I started to get kind of cold but they made the process fun and comfortable. We had a videographer as well, recommended to us by Lisa, Nick Nault. He does a lot of shooting for Island Lake Lodge actually and knows the area really well. We were unsure if we wanted a video camera following us around all day, but honestly we forgot about it most of the time and having the footage to look back on is so special. I think having a videographer is something everyone should invest in for their wedding!
After our photos we got to have our room reveal for the Reception Dinner space and as cliche as it sounds it was like walking into a dream. I am not exaggerating when I say that Lisa and her team from Mountain Bride made literally exactly what I pictured in my mind come to life. As mentioned, I wanted a lot of flowers and greenery, with geo shapes and lanterns, candles, patio lights above, and a head table backdrop with geo shapes, some filled with flowers and fairy lights, framed with greenery and that head table backdrop was my favourite part. It was incredible. Carmen and her team from Green Petal flowers in Fernie absolutely killed everything from the centrepieces, my bouquet – it had a succulent in it!! – the ceremony arch flowers, the antler chandelier greenery in the bear lodge.. all of it was unreal. I have gotten so many comments from friends and family telling us how beautiful our wedding decor was.
Everyone else that helped make our wedding day unforgettable: Special Event Rentals, Modern Luxe Rentals, Whippt Catering for the delicious gluten and dairy free cake, New Soul Duo for keeping our guests on the dance floor all night, Trena from Trena Laine Makeup for making me pretty and feel like myself, along with my bridesmaids and mother in law. Stephanie Hartland from Hammer Headz for making
my wedding hair vision come to life. Steph has been doing my hair for about 9 years now and was a guest at our wedding as well. I wouldn't have wanted anyone else doing my hair or my bridesmaids hair. Trena works out of the same building space as Steph so I get to see her friendly face whenever I get my hair done, and will be going to her for any makeup needs from now on. Sparrow Hair for doing my mom and mother in law's hair, and Donna our marriage commissioner – who I knew from the moment I met her was a great person to marry us. She's a big sweetheart and her speech made us laugh which calmed our nerves and was coincidently pretty in line with our vows. We're still on a big high from that day and will be talking about it for a while.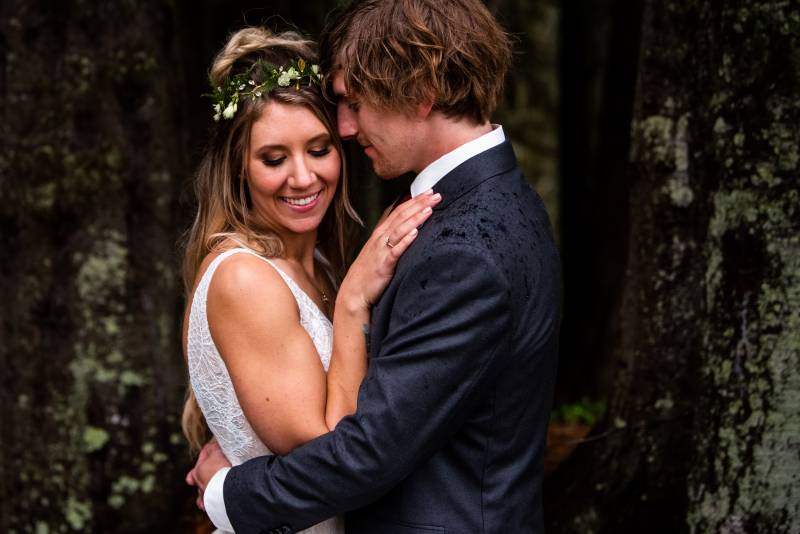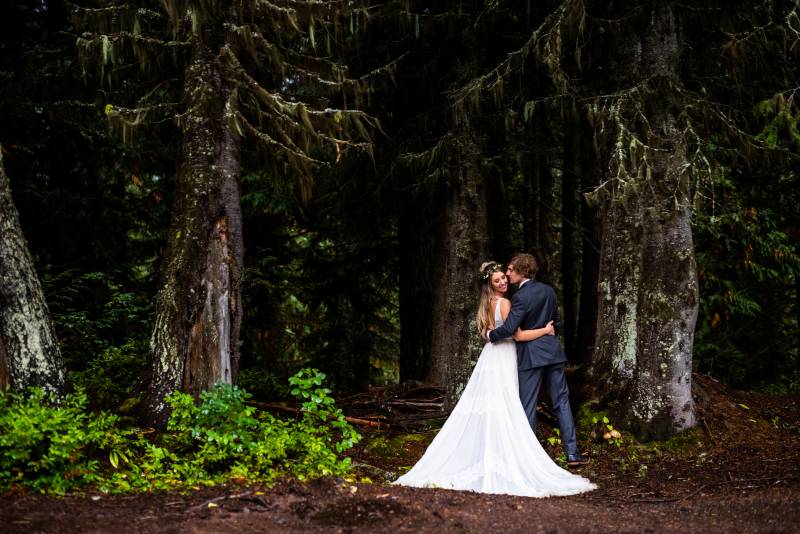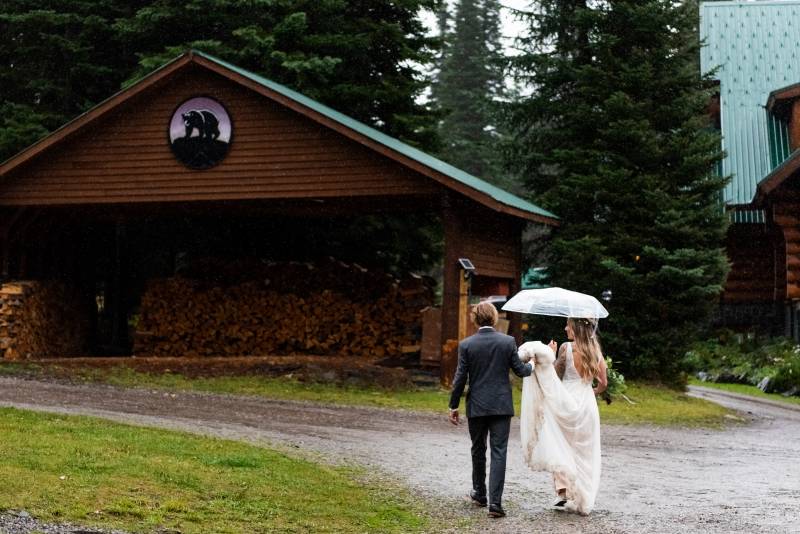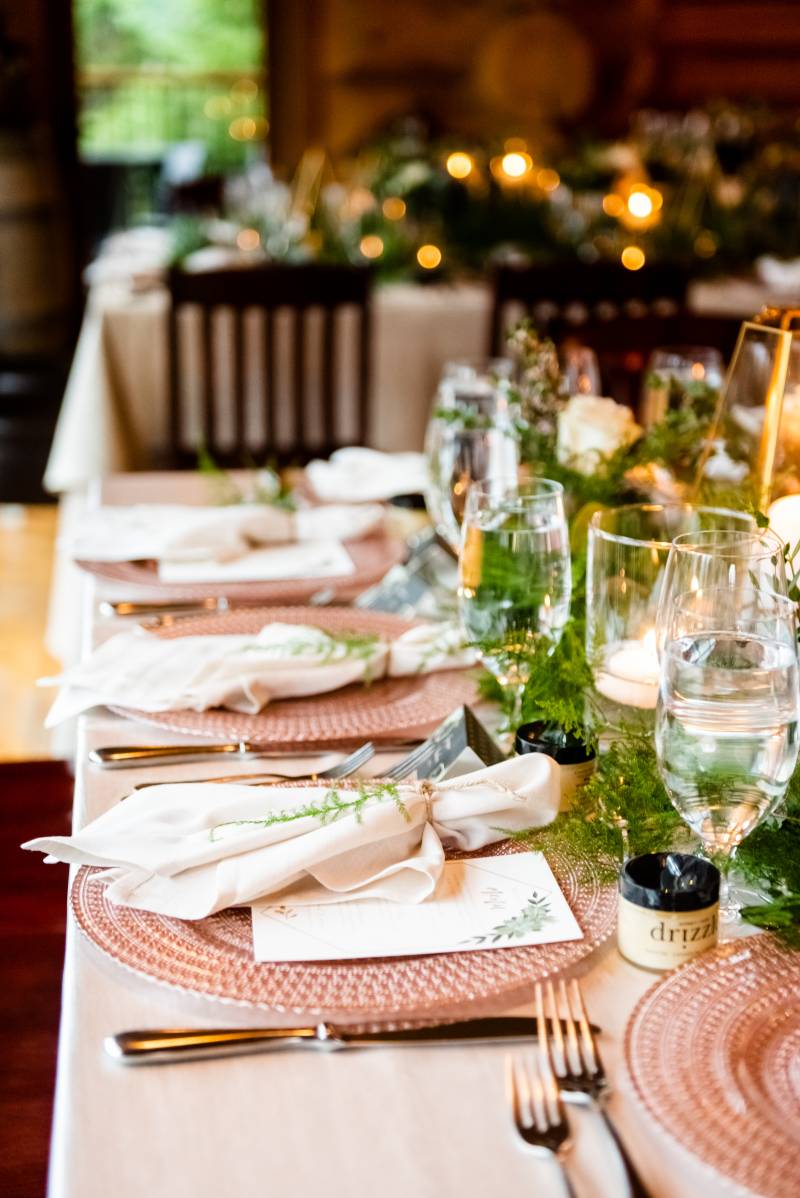 Sources
Paisley Photography/Mountain Bride/Island Lake Lodge/Trena Laine Makeup Studio/Whippt Desserts & Catering/The Green Petal/New Soul/Jason Delaney/Modern Luxe Rentals/Donna Marie Burak/Stephanie Hartland/Special Event Rentals/Nick Nault Videography